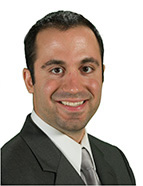 "Fortunately for Derrick Rose, it looks as though the eye injury he suffered was not serious and he received immediate medical attention." - Dr. Mehryar (Ray) Taban
Beverly Hills, CA (PRWEB) October 13, 2015
According to an ESPN report published on October 1, Chicago Bulls point guard Derrick Rose suffered an orbital fracture when a teammate accidentally elbowed him in the left eye during the first day of practice for the season on September 29, 2015. Rose's recent eye injury is just one of a series of setbacks, including a knee injury that has interfered with his ability to stay on the floor. The 26-year-old underwent surgery the following day to evaluate and correct his fractured eye socket.
Dr. Mehryar Taban, founder of TabanMD in Beverly Hills and renowned oculoplastic surgeon commented, "Any time you have trauma to the eye and orbital socket, you run the risk of severe, permanent damage, such as blindness, blurred vision, or even misalignment of the eyes, which is why it is so important to have an oculoplastic surgeon evaluate the situation as soon as possible. Fortunately for Derrick Rose, it looks as though the eye injury he suffered was not serious and he received immediate medical attention."
Following reconstructive surgery the day after the accident occurred, head coach Fred Hoiberg announced that Rose should be able to return to basketball activities within just two weeks of recovery. The point guard was lucky to have not suffered any structural damage and is still in good spirits.
"Treating orbital injuries requires a deeply nuanced understanding of the eyelids, eyes, and orbital socket to ensure that not only vision is preserved, but also appearance and functionality. If even one part is damaged and poorly reconstructed, the patient's entire vision and quality of life may be compromised, such as permanent double vision," added Dr. Taban. "The recovery time is just as important in the long run as well. It bodes well that Mr. Rose should only need about two weeks of recovery, but it's important that he takes that recovery time seriously and does not do anything that might jeopardize the healing process."
Eye-related injuries are not uncommon in basketball as the players are typically in close proximity to one another without protection. However, after a player has suffered a facial or orbital injury, upon returning, he or she may be forced to wear a protective mask to prevent further injury. Derrick Rose is just one of four NBA players forced to sit out an average of 14 games thanks to orbital injuries, according to certified athletic trainer and sports writer Jeff Stotts of In Street Clothes.
"Other sports require their players to wear protective gear, so it is not unreasonable for the NBA to at least encourage basketball players to wear face masks and avoid the risk of orbital injuries and missing out on games," said Dr. Taban.
Mehryar (Ray) Taban, MD, FACS, is a Santa Barbara and Beverly Hills oculoplastic surgeon who is committed to his patients' progress and results. He offers an array of reconstructive and cosmetic procedures, with a focus on the face in general and the eyes in particular. He has had extensive training, and is triple board-certified by the American Society of Oculofacial Plastic Surgery (ASOPRS), American Board of Cosmetic Surgery (ABCS) and American Academy of Ophthalmology (AAO). Due to Dr. Mehryar (Ray) Taban's expertise, he is often called upon to help other physicians with their complex cases, and frequently publishes articles and lectures to physicians around the country.
For more information on Dr. Taban and his services, please visit http://www.TabanMD.com.