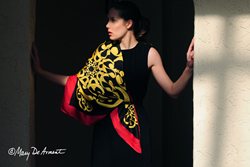 If you could give the gift of one word, which would you choose?
Sarasota, Florida (PRWEB) October 13, 2015
Thoughtful consumers who want to give meaningful gifts have a new option for the 2015 holiday season. Scarves by Mary DeArment® literally express a thought because each design is made with a word or phrase. Committed to literacy and intrigued by the endless possibilities of letter forms, Mary DeArment explores the relationships of letters within a geometric frame. Starting with an intentionally chosen word or phrase, the designer freely mixes upper and lower case letters, serif and sans serif styling, print and cursive renditions, conventional and idiosyncratic orientation. "These designs are all about relationships – consider how the following words apply to relationships: complexity, support, space, interaction, meaning and humor. Another parallel between my designs and relationships is that both require time and thought. They must be unraveled to be fully understood. I want my viewers to be engaged with the designs just as we are engaged with the people with whom we are in relationship." The designer describes her Mother Daughter design as representing that particular relationship: "Beautiful and complicated!"
A common response to DeArment's designs has been, "Help me find the hidden word." Each scarf is packaged with a Gift Ornament which functions as a clue—a visual translation. Another way to reveal the design is through animation. The animation process, which DeArment likens to choreography, allows her to indulge (sort of) with another of her passions: dance. "Animation is much like choreography. I have a number of elements that need to move through space and end up in a particular configuration. On the way they can interact or exist in their own space. They can move in unison or sequence. They can move quickly or slowly, locomoting moving in a simple or more complex way like spinning or shrinking." Mary DeArment's business Facebook page provides links to several examples.
DeArment's personal love of scarves, a versatile and practical accessory, and her commitment to quality led her to the establishment of the eponymous luxury brand. The properties of silk and the screen printing process insure that DeArment scarf colors are vibrant. The designs range from retro graphic to Art Nouveau. Both bold and soft colors are represented in the 2015 collection of 36 inch square scarves. Other than two chiffon offerings, the 2015 collection is silk twill, the classic scarf weave because of its sheen and body. Hand rolled hems add more body and aid in the success of various ties and drapes. Quality silk, incomparable color, and hand finishing subtly communicate luxury.