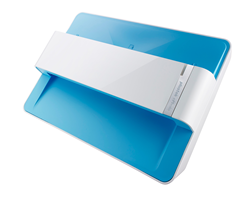 SANTA FE SPRINGS, Calif. (PRWEB) October 14, 2015
Plustek Technology Inc., the leader in imaging scanners, today announced the release of the Plustek ePhoto Z300, a new single-sheet scanner that is specifically designed to digitize photos without scratching or harming them.
ePhoto Z300 features a protected scanning path via elevated rollers, providing a soft media touch. The scanned photo will only be handled by the roller without causing damage. With a flatbed photo scanner, users need four steps to scan: lift the scanner's lid, lay the photos out one-by-one on the scanning bed, close the lid and scan. ePhoto Z300 replaces all of these steps with a single picture insertion. Once the photo has been detected, the scanner grabs it and scans it automatically.
ePhoto Z300 is bundled with easy-to-use software that includes some useful photo enhancement tools and effects that easily fine tune the scanned images, making it fun to relive old memories and enjoy making them better.
"The ePhoto Z300 makes it easy to convert your old photo albums, which is especially nice during the holidays," said Robert Fuchs, marketing manager for Plustek USA. "The ePhoto is designed to take in photos one-by-one to ensure smooth scanning and turn them into high-quality digital images, ensuring they will keep forever."
Key features of the ePhoto Z300 include:

CCD sensor captures high quality of colors
Detects and scans photos automatically
Soft-touched rollers provide added protection to prevent photos from scratches
Easy-to-use ePhoto software features color enhancement and effect tools
Scans both documents and photos up to 8.5" in width
Bundles with NewSoft Presto! PageManager 9 software
Mac OS X and Windows compatible
The Plustek ePhoto Z300 will debut at the PhotoPlus International Conference and Expo on October 22-24 at the Javits Convention Center in New York City. Plustek product specialists in PhotoPlus booth #1240 will be hosting live demonstrations of the ePhoto Z300 as well as their new OpticFilm 135 film scanner. Plustek ePhoto Z300 is priced at $199 and is available exclusively through B&H Photo Video and Adorama. For additional information, please visit http://www.Plustek.com.
About Plustek USA
Based in Los Angeles with 30 years of integrated design experience, Plustek USA is an imaging scanning and mobile surveillance solution provider. Its designs and manufacturers an array of document, mobile, book, film, and photo scanners, as well as in-vehicle video surveillance systems. For more information, please visit http://www.plustek.com/usa.