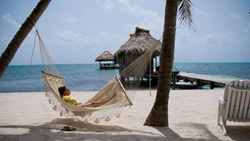 The all-inclusive Belize vacation packages are some of the most time and cost effective ways to get to know this amazing country.
San Ignacio, Belize (PRWEB) October 12, 2015
With recent media attention highlighting Belize's growing attraction as a desirable retirement destination, the Lodge at Chaa Creek is offering prospective retirees a special Belize "fact finding vacation" to help familiarise them with the country before they consider making the big leap.
Chaa Creek Assistant GM Bryony Bradley said that by enjoying a leisurely vacation while getting to know Belize's countryside, society and resources, prospective retirees will be in a better position to make an informed choice.
"Belize is a laid-back country, so it's a good idea to take your time and get to know the land and people," Ms. Bradley said.
"For over thirty years, Chaa Creek has been helping people discover Belize. In addition to coordinating life events such as destination weddings and honeymoons, we also help with finding reputable professionals in a range of services. We have a great network of colleagues across Belize and we're able and very willing to help our guests with any enquiries they may have," she said.
Ms. Bradley explained that if guests advise the Belizean eco resort that they are vacationing with a view towards retiring in Belize, staff would be available to answer questions and provide direction.
"We work with guests interested in retiring here to create what we call a 'Belize Discovery Vacation' to help with any questions and to point them in the right direction. We can help with things like car rentals and providing the contact details of professionals who can help in the quest for that perfect new home; whether inland, on the Caribbean coast, or out on the cayes," she said.
Ms. Bradley said that although Belize is a small, friendly, English speaking country, much time and energy can be saved by enjoying a fact finding vacation.
"It's like anything else," she said, "local knowledge goes a long way when discovering a new place."
Ms. Bradley gave some advice for those considering retiring to Belize.
"Before you leave home, familiarise yourself with the various incentives to retire in Belize. The Belizean government's Qualified Retired Persons Incentive Act, or QRP, is operated by the Belize Tourism Board and has been in effect since 1999. People can download a PDF about the program, or find information through the Beltraide website," she said.
Ms. Bradley added that there is also the option of obtaining Belizean permanent residency, which people can apply for themselves, or by hiring an "expediter." These are usually attorneys, retired immigration officers, justices of the peace and other professionals who specialise in this area, she explained.
"There are a variety of ways to approach retirement in Belize, and by spending a bit of time on the Internet researching options, guests will arrive with a better idea of what questions to ask.
"Once they're here, we can help them put together a plan, and then put it in action in the most enjoyable, relaxing way possible. Another good way to go about this is to enjoy one of our 'Rainforest to Reef' all-inclusive Belize vacation packages that allow people, for one affordable set price, to split their vacation time between inland Chaa Creek, and one of our partner resorts on Belize's Caribbean coast and cayes.
"It's the easiest, most seamless and affordable way to become familiar with Belize's surprisingly diverse landscape. With everything from accommodation, meals, activities and transfers included, all-inclusive Belize packages are some of the most time and cost effective ways to get to know this amazing country," she said
Ms. Bradley referred to an October 8ᵗʰ Huffington Post piece, titled "Words Of Wisdom For Anyone Considering Retiring To Belize," that described the experience of a couple who moved to Belize from the United States two years ago.
After offering advice and tips about a range of interests such as shopping, driving and living in Belize, the couple were asked, "Would you do it again?"
"Absolutely. This is a beautiful country with beautiful people," was their answer.
Ms. Bradley said such reactions were not uncommon. "But again, we advise people to come down and see for themselves what makes Belize such a great place to retire to. And we look forward to helping make their search easy, effective and enjoyable," she said.
The Lodge at Chaa Creek is a multi award winning eco resort set within a 365-acre private nature reserve along the banks of the Macal River in Belize.