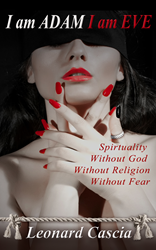 What Would Life be Like if There Were No Religion, No God? New Book Finds Out
Ridgewood,NY (PRWEB) October 12, 2015
What Would Life be Like if There Were No Religion, No God? New Book Finds Out
As religious terrorism, ISIS threats and mass shootings directed at Christians continue to ravage the globe, a long-asked question may enter the minds of many: "What would life be like if there were no religion, there were no God?"
Author Leonard Cascia asks this question in his new novel, "I am Adam I am Eve: Spirituality without God. Without religion. Without Fear." And then he answers it. The answer comes through the captivating story of a woman named Mary Jane.
The Story
Mary Jane is the typical Long Island housewife, right down to the college-bound kids, college-sweetheart husband and family dog. But her typical life gets shattered when she thinks her husband is cheating on her. Instead of booting him to the curb, she plunges headfirst into a plan to save her marriage, a plan that takes her on a twisted path of B&D, BDSM – and she doesn't just stop at pleasures of the flesh.
She seeks out pleasures for her mind, pleasures for her very soul. Readers join her as she breaks free of the bondage of beliefs with, which she was accosted with since childhood. She breaks free of the bondage of convention, of what's expected. She breaks free of the bondage of self. The novel takes readers on a journey of exploration, of understanding and a deep awakening that may prompt readers to break free from their own self-constructed prisons.
The Author
While the novel is a fictional narrative based on imaginary characters and events, it was prompted by Cascia's own experience. On the cusp of his 56th birthday, Cascia experienced an epiphany that had a profound effect on his life and shook him to the core.
"I am Adam I am Eve" is the result of that epiphany, one that readers may ultimately share if they've been struggling with the same lifelong conflict as Cascia: the feeling of being trapped in a belief of religion and God that may no longer work, or may have never worked at all.

"I am Adam I am Eve: Spirituality without God. Without religion. Without Fear."
Adult novel published by Leonard Cascia
Published: 09/05/2015
Available in paperback or Kindle Edition
Available online at: http://www.amazon.com/gp/product/B01507UCRI
Leonard Cascia is first-time novelist who was once the typical New York business owner from Queens. His epiphany, and subsequent debut novel, has made him anything but typical. Learn more about his groundbreaking book at: http://www.iamadamiameve.org/
For Immediate Release
To learn more about "I am Adam I am Eve" or to schedule an interview with Leonard Cascia, please email Leonard at lennyc(at)iamadamiameve(dot)org. Cell number 917-698-6047.
High resolution image available at: http://www.iamadamiameve.org/