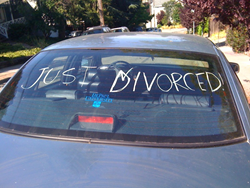 Toxic Divorces represent less than 5% of the divorcing population but they use up most of the available judicial resources.
Santa Barbara, California (PRWEB) December 03, 2015
A new Quiz from Navigate Divorce Guide is designed to protect people going through divorce. Brian H. Burke has been at the heart of the divorce process for 30+ years as a practicing Family Law Specialist (State Bar of California). His book, "Divorce? Don't Let Lawyers Make it Ugly," is described as the equivalent of trade secrets, explicitly exposed. He is on a mission to help people have a better divorce.
After finishing what he refers to as "the ugly lawyer book", he developed an instrument–a quiz–to distinguish the "Toxic Divorce" from the "Normal Divorce". At the Navigate Divorce Guide website, a visitor can now take the Toxic Divorce Quiz in less than five minutes and learn the key concepts of Toxic Divorces as opposed to Normal–or Ordinary–Divorces.
"I'd been doing this work for five years when I realized that toxic divorces were completely different. This is useful information for anyone dealing with divorce, as it helps explain what's going on. For lawyers working in other areas of the law, the behavior of a divorce case, and everyone involved in it, is a mystery in search of a solution," said Burke. Over the last 25 years, Burke's Road Map Consultation has given him a novel vantage point for observing the process of divorce, bringing clarity to his insights about key factors affecting outcomes.
Burke expects that that people with Toxic divorces will leave the website after taking the Toxic Divorce Quiz and look for help elsewhere. As for the rest, he says, "Once assured their divorce is Normal, people will discover interesting and useful information without the demoralizing effect of a conscious or unconscious belief that the "right" thing, the "smart" thing to do in their divorce is the same thing as what is done in the Toxic divorces they've heard about all their lives."
"It's critically important for Normal divorcing couples to learn that shouldn't try to understand what's happening in their case by making comparisons to Toxic cases, which are the ones they hear about in the national media and in back-fence gossip", says Burke.
The Toxic Divorce Quiz on NavigateDivorceGuide.com is a valuable tool for taking the temperature of a divorce. It can be taken by the divorcing person or by a friend or family member looking for insights. For more information about the Road Map Consultation or the Quiz, visit https://www.navigatedivorceguide.com/.
The divorce resource website at Navigate Divorce Guide is the culmination of Attorney Brian H Burke's 40+ years of experience in the field of law. He has been certified by the California Board of Legal Specialization as a Family Law Specialist for 34 years and has witnessed innumerable divorces in that time.
Brian feels that his unconventional approach can prevent unnecessary suffering and limit inevitable suffering by explaining that for the vast majority of the divorcing population the final outcome can be profoundly positive. Quoting the words of a wise judge, he says, "It's the last best chance you'll have to be more like the person you have always wanted to be."