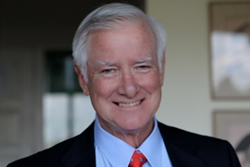 It's the last best chance you'll have to be more like the person you have always wanted to be.
Santa Barbara, California (PRWEB) December 09, 2015
Brian H. Burke has published a comprehensive email series available on his website, http://www.NavigateDivorceGuide.com, an excellent resource for anyone who is about to start the divorce process. "Preparing for Divorce" delivers eleven emails every four days addressing key questions about divorce. Burke has created this educational series to help people handle divorce in a way consistent with their values and beliefs, as opposed to the values of their attorney or anyone else offering advice.
He is the author of "Divorce? Don't Let Lawyers Make it Ugly," and his tell-it-like-it-is style has earned him a trusted following of people who are dealing with divorce, in one form or another. He has new resources for people to evaluate their relationships with their divorce lawyers, and to help them recognize the common practices divorce lawyers use that create unnecessary stress.
The series starts with the decision to divorce: how does a person know when it is time to begin the process? The second email asks questions about resources, to determine which ones are particularly valuable at this time. The third email addresses the crucial topic of realistic expectations. The fourth email is about emotions and personal goals. The series follows the metaphor of preparing a ship to set sail with the best captain and crew. Burke outlines the various options for legal intervention and support. Subscribing to "Preparing for Divorce" will support confidence in moving forward and clarity about one's personal values, while raising the alarm about issues that get in the way.
"Divorce inevitably causes personal change; the 'You' at the outset of divorce will be different from the 'You' the end, maybe better or maybe worse." Burke doesn't define what "better" means, leaving that task to the person having the experience. Perhaps "better" has something to do with "flourishing."
The email series "Preparing For Divorce' is delivered over 44 days; Burke discourages urgency. For those seeking personalized guidance, Burke is making his Road Map/Extended Consultation service available to California residents. For more information about the Roadmap, go to http://www.navigatedivorceguide.com/case-consultation/
The divorce resource website at Navigate Divorce Guide is the culmination of Attorney Brian H Burke's 40+ years of experience in the field of law. He has been certified by the California Board of Legal Specialization as a Family Law Specialist for 32 years and has witnessed innumerable divorces in that time.
Brian strongly feels that his unconventional approach can prevent unnecessary suffering and limit inevitable suffering by explaining that for the vast majority of the divorcing population the final outcome can be profoundly positive. Quoting the words of a wise judge, he says, "It's the last best chance you'll have to be more like the person you have always wanted to be."