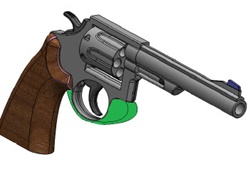 Science fiction is about to become science fact in our lifetime
Philadelphia, PA (PRWEB) October 13, 2015
"PrimeHangout is pleased to announce the development of a technology designed to prevent death by firearm!" Henry Balogun, Founder/CEO of PrimeHangout.com announced. "The desire to achieve effective reduction in gun violence should not focus exclusively on gun control or more laws designed to limit the right to bear arm. The right to bear arm is constitutional. That, to some people, is a non-negotiable right. However, the right to life is divine. No one have the right to take another person's life over things that should be allowed to end up in a court of law, thereby, settled in compliance with the dictate of the law. With that said, effective reduction in gun violence cannot be completely achieved without the right of any individual for protection against unpredicted and unaware harm deeply rooted in mental illness – uncontrollable anger and possibly hate, or some strange ideological, philosophical or religious beliefs likely to lead to elimination of all opposing views."
Gun, the most potent weapon ever invented (in the hand of any person) is power. Gun pointed at another human being, if fired intentionally or inadvertently, could result in the end of life or in an unimaginable disability. What would happen if there was a way to control, thereby reduce the fear associated with firearm? If discharge of firearm with intent to kill or maim is controlled and bullets are not fired because the firearm is automatically stopped, or speed of the bullets are reduced to almost zero resulting in bullets falling off automatically when triggers are pulled, the fear of a sudden loss of life due to direct hit, ricochet or stray bullet can be eliminated.
"We are working on a technology designed to protect everyone and not limit or control gun ownership. We are concerned about making sure you and your loved ones are free from death by firearm. Example:
1. If you are in a public place ( Restaurant, Theater, Mall, Shopping Center, or College Campus, etc) and an individual or group of people with loaded firearm(s) walks in, you would receive notification on your mobile device with regard to the presence of all loaded firearms in your vicinity. This technology is designed to provide you the opportunity to take control of those loaded firearms to prevent loss of life.
2. If you are in your car listening to music or watching a movie while waiting for your child who is attending his or her friends party; while waiting, you receive notification on your mobile device about the presence of loaded firearm in your vicinity, this technology gives you the opportunity to take control of that loaded firearm to prevent loss of life. This is against the desire of the person with the loaded firearm. What you are saying in essence is: "I don't need your mess. I am here because of my child and we are going back home safe and sound."
With patent pending and engineering design completed, we are working on a fully functional prototype of this incredible technology. Science fiction is about to become science fact in our lifetime. How would this protect the general public and still allow law enforcement officers to do their job effectively? I would be willing to explain." Henry Balogun declared.
As good as this invention may sound, it is nothing without support. We are going to need public and government support, support from law enforcement officers, religious and civil right leaders, politicians, law makers, journalists, etc. Why? We are going to need massive changes in the law to be able to call into existence something that has never been done before – the development of smart firearms in the interest of saving lives. Can this be done? If you truly believe that life is precious, you will not hesitate to stand up and ask: Why not? Collectively, we can end the sickening desire to kill. This is possible and we are ready to demonstrate it. Register to add your support at http://www.EnoachTech.com or http://www.VCap1.com. I would be willing to meet with any interested group or organization to discuss and answer any questions or concerns about this project – Henry Balogun affirmed.