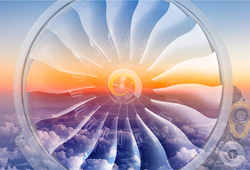 I am excited by this opportunity. We have a terrific team and a clear vision.
Hermosillo, Sonora (PRWEB) October 28, 2015
Announcing an exciting new enterprise registered in Sonora, Mexico and serving a global industry - the company focuses on advanced engineering and manufacturing of aero engine and industrial gas turbine hot zone components, including conventional and non-conventional manufacturing of vanes, segments, inserts and seals.
Positioned as a Tier 1 supplier, with in-house R&D, engineering, and manufacturing, the company offers a full suite of design and process capabilities for both precision machined and fabricated parts. This includes state-of-the-art 3-axis and 5-axis CNC grinding, CNC Milling, EDM die-sinking, EDM fast hole drilling and laser drilling, as well as sheet metal forming and associated welding and heat treatment.
Filling a clearly identified need in the global supply chain, including managing turnkey Bought-Out-Finished (BOF) sourcing, Optimum Solution Technology offers robust, cost-optimized business solutions. The company will be opening technical liaison offices in Derby, UK and CT USA, to support OEM customers worldwide.
A new R&D Center will focus on integrating advanced computer aided design, powerful simulation techniques, virtual qualification, and advanced, non-conventional manufacturing methods.
Production will ramp up in 2016, with all applicable AS9100C, NADCAP audits and process certifications being completed.
The company's business model exploits the vigor of a new enterprise, led by a seasoned executive leadership team. Stability and independence is assured through local, private, long-term financing, complemented by hands-on, experienced management. These advantages are further leveraged by the benefits of a newly equipped world-class plant being located in Hermosillo, the State capital of Sonora.
Hermosillo boasts excellent engineering schools and a highly competent, motivated workforce. The State of Sonora supports a strong and diversified aerospace and IGT supplier base, offering outstanding partnering opportunities in an integrated local supply chain.