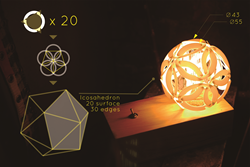 World first aesthetic intelligence toy to boost your logic, sense of beauty and imagination.
(PRWEB) October 13, 2015
It is more than just a toy. It boosts geometric thinking, can be turned into beautiful, practical home decor and even become a board game that brings people together with joy. The incredible "Pazo" has it all.
The tiny little puzzle builders have limitless potential to make everything. It is a learning kit that enhances users' logical thinking and creativity and it's suitable for parents and children to play together. Pazo not only demonstrates the aesthetic of geometry, but also trains kids in three dimensional concepts. By linking each puzzle together into a masterpiece, the construction process can definitely build up users' abstract thinking and sense of beauty.
It is worth noting that Pazo is made with food grade plastic and is definitely safe for kids and pets. Meanwhile, it is strong and flexible enough to be designed into items like a real kick-able ball, a wearable accessory, or even something beyond imagination. Pazo is without doubt a perfect interactive toy to boost creativity. With various ways to play, making beautiful and functional handmade artworks easily, even grownups love it, suitable for all age groups. That's why Pazo is so popular. It certainly has got a lot of attention from the education units even not yet on the market.
Can't wait to give it a go? Pazo is now live on Kickstarter. The best, early bird orders could receive it before Christmas!
https://www.kickstarter.com/projects/mrsheep/pazo-aesthetic-intelligence-puzzle-game/