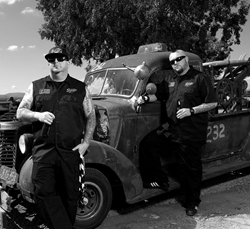 Los Banos, CA (PRWEB) October 12, 2015
For Immediate Release:
The Moonshine Bandits Sign With United Talent Agency For Worldwide Representation & Kick Off Blacked Out Tour With Angels Cut & Pruno
Central California outlaws The Moonshine Bandits have announced their new partnership with United Talent Agency for booking worldwide. The Bandits will be represented by Alec Vidmar and Josh Garrett in the Nashville office. United Talent Agency books some of the biggest talent in Nashville including Merle Haggard, Chris Janson, John Michael Montgomery, The Lacs, The Kentucky Headhunters.
The Moonshine Bandits will kick off their "Blacked Out" headlining tour this month with rock outfit Angels Cut, and California country rapper Pruno as support. The Moonshine Bandits continue to tour in support of their new album "Blacked Out", which debuted inside the Top 15 on Billboard's Country Albums chart at #13, cracked the Billboard Top 200, and simultaneously debuted in the top 10 on the Rap Chart.
United Talent Agency is a premier global talent and literary agency representing many of the world's most acclaimed figures in every new and emerging area of entertainment and media, including motion pictures, television, music, digital, broadcast news, theatre, video games, books, fine art and live entertainment. The agency is also globally recognized in the areas of film finance, film packaging, branding, licensing, endorsements and representation of production talent. UTA additionally provides corporate consulting, venture funding and strategic advisory services to companies ranging from start-ups to Fortune 500 companies. UTA operates the brand strategy agency UTA Brand Studio and owns market-leading broadcast news agency Bienstock. UTA founded and co-owns leading integrated marketing firm United Entertainment Group, a DJE Company, which focuses on branded entertainment for major consumer brands.
Long before people figured out that country and rap had a lot in common, the Moonshine Bandits released their genre-blending album, "Whiskey & Women," and took the world of outlaw music by storm. The group's blue-collar work ethic and unwavering persistence has led to over 19 million views on the ShinerTV YouTube channel – collectively over 30 million views on YouTube - while their video for "My Kind of Country" peaked at #1 on CMT Pure. Connecting with fans on all levels, Moonshine Bandits have built a solid "Shiner Nation" of loyal fans, developed their own brand of Shiner Barbecue Seasoning, Beef Jerky and legal Moonshine.
Tour Dates:
10/14 - Lousiville, KY @ Trixies w/ Big Smo
10/15 - Newport, KY @ Thompson House
10/16 - Columbus, OH @ Alrosa Villa
10/17 - Fostoria, OH @ Cowboys & Angels
10/22 - Grand Rapids, MI @ The Intersection
10/23 - Traverse City, MI @ Ground Zero
10/24 - Flint, MI @ Machine Shop
10/27 - Kansas City, KS @ Red Eye Bar
10/28 - Kansas City, KS @ Red Eye Bar
10/29 - Springfield, IL @ Boondocks
10/30 - Indianapolis, IN @ 8 Seconds Saloon
10/31 - Fort Wayne, IN @ Piere's Ent Center
11/11 - Wichita Falls, TX @ Scoots Bar
11/12 - Dallas, TX @ Gas Monkey Bar
11/13 - Jasonville, TX @ Red River ATV Run
11/28 - Anchorage, AK @ Williwaw Venue
12/01 - Wilman, MN @ Peps Nightclub
12/02 - Minneapolis, MN @ Fine Line Music
12/03 - Des Moines, IA Wooly's Dime Shop
12/04 - Hastings, NE @ Bourbon Jack's Bar
12/05 - Omaha, NE @ Whiskey Tango
For more information, visit http://www.moonshinebandits.com. Follow the Moonshine Bandits on Twitter @moonshinebandit or Facebook at facebook.com/moonshinebandits
###