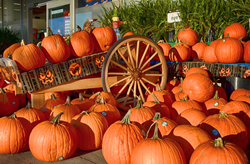 Fall Foodie Festivals in the Appalachian Mountains
Atlanta, Georgia (PRWEB) October 12, 2015
Harvest Festivals have been celebrated since man began to farm. The ancient Mesopotamians, Jews, Incas, and Chinese all celebrated the Autumn harvest. Carrying on the tradition for 39 years is rustic Toccoa, Georgia, where thousands of people come out to rejoice and howl at the harvest moon.
100 miles north of Atlanta, Toccoa is a delightful town surrounded by woodlands, colorful foothills, and panoramic state parks. It is known for tranquility, spectacular nature, and incredible Georgia mountain properties. Tucked into the foothills of the Blue Ridge Mountains, Toccoa is small-town America at its very best. And the residents there have a wonderful knack for holiday festivals.
The Toccoa Harvest Festival, which began in 1978, takes place on the first week of each November. It is a celebration of thanks for the year's healthy crops, and to hope the new year will be fertile. In Toccoa, people come from their rustic mountain homes with all sorts of homemade treats, to share their delectable recipes with neighbors, family, and friends.
The festival also hosts a number of interesting exhibits, such as a petting zoo, a classic car show, and farm and art displays. There will be music, dancing, activities for kids, and plenty of great festivities. With over 160 food and craft vendors, and so many things to do, the event draws thousands of hungry and spirited visitors.
NOVEMBER 7-8, 2015 TOCCOA HARVEST FESTIVAL SCHEDULE - (Saturday 10am-5pm, Sunday 10am - 4pm)
Live entertainment on two stages
Antique and classic car cruise-in
Horse and buggy rides
Craft and food vendors
Petting Zoo
Rock Climbing
Puppet Show
Shuttle rides to Toccoa Falls
And families who plan to visit Toccoa to explore Georgia mountain properties, the area has plenty of other wonderful things to see. These include Toccoa Falls, Currahee Vineyards and Henderson Falls Park. Folks enjoy the game of golf, and exquisite resort living, then folks must visit the award-winning Currahee Club, a private club where folks can golf, dine, hike, relax, and enjoy the lush countryside.
Not only one of Georgia's best golf course communities, the Currahee Club is a world-class recreational destination and is a great place to find rustic mountain homes. Named by Southern Living magazine as a pioneer of the southern lifestyle, Currahee Club boasts a wealth of fun and amenities. These include tennis, swimming, restaurants and a pub, and outdoor activities galore, with 1,200 acres of rolling terrain facing Western South Carolina, Lake Hartwell for boating, and more.
In folks fall in love with Currahee Club, as many people do, there are memberships available, and cozy homes and estates for sale. Current prices of homes in the community range from the mid $400,000's to upwards of $1.5 million. Those who live on this amazing estate are truly contented and blessed. Chosen by Links Magazine (2015) as The Best Community For Club Life, folks must come to see what makes it one of America's best golf course communities.
To experience Currahee Club, folks can schedule a visit by booking one of their welcoming Discovery Tours. The tour allows families to enjoy the clubhouse, play a round of golf, and appreciate the very best of the Currahee Club lifestyle. To become a "Member for a Day", go to the website and fill out a Contact Form. Once folks are there, they will see what makes Currahee Club extraordinary.
Call the Currahee Club direct at 888.560.2582.
About Real Estate Scorecard:
Real Estate Scorecard writes unbiased real estate reviews providing in-depth information about popular gated communities in Florida, Georgia, North Carolina, South Carolina and Tennessee, all in an effort to help people discover where to retire in the Southeast.
Website: http://realestatescorecard.com