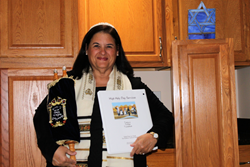 Instead of focusing on the grand scale, we were back to shtetl style services, a small intimate visionary community. Rabbi Rose
Gainesville, Virginia (PRWEB) October 19, 2015
Rabbi Rose Lyn Jacob, a rabbi ordained by the visionary Rabbinical School, the Jewish Spiritual Leadership Institute (JSLI), quickly assembled the equivalent of a pop up synagogue in a small theatre in the Piedmont area of Virginia for the High Holidays with heart warming results. For the most important holidays on the Jewish Calendar, Rosh Hashanah and Yom Kippur, Rabbi Rose rented the local theater and convened free holiday services to a community of soul searching congregants. The seventy congregants traveled from five rural counties to pray and observe. The simplicity helped to put things into perspective.
Based on a suggestion from another JSLI rabbi, Rabbi Rose purchased a cabinet from the Lowe's kitchen department to use as the Torah's ark. The Rabbi chose a cabinet that would match her own kitchen cabinets, since she was unsure of the success of the High Holiday service plan and wondered if the ark would ever be needed again.
The small 18 inch Torah was brought to the theatre wrapped in a white Tallitt. According to Rabbi Rose, "Instead of focusing on the grand scale, we were back to shtetl style services, a small intimate visionary community. There is a Torah app for your phone, your iPad, and that the entire Torah can fit on a chip. When we carry the Torah to Mars it probably will be housed in a nano-chip."
Instead of the usual 500+ page High Holiday Machzor, the Rabbi along with her husband created their own prayer book that fit into a 1/2 inch binder. The edited Machzor wove together traditional prayers and melodies with contemporary and ancestral readings, fostering congregational participation as well as introspection. For older congregants, the music was nostalgic. For younger congregants, the modern readings resonated in a meaningful way.
The Cantorial vocals were performed by Sue Robbins, a woman from New Jersey who sang in her Synagogue choir. That too, was pure B'shert, as Rabbi and "Cantor" found each other by chance in the waiting room of their veterinarian in a county with fewer than ten Jews.
Before the Torah service, Aliyah's were offered to all in the new assembly. A gentleman's hand was raised and sang the blessings as the Rabbi read from the Torah. Later the elderly man shared that he had not been up to the Torah since his Bar Mitzvah sixty years ago,
The intimacy allowed the congregants to interact. It was like having the holidays in a living room.
It looks like the kitchen cabinet will be needed next year after all.
About Sim Shalom and JSLI
Sim Shalom is an interactive online Jewish Universalist synagogue which is liberal in thought and traditional in liturgy. Created in 2009 by Rabbi Steven Blane on Manhattan's Upper West Side, Sim Shalom offers a means of connecting the unconnected. Rabbi Blane leads accessible and short Kabbalat Shabbat services every Friday night using a virtual interface and additionally Sim Shalom provides online education programs, Jazz concerts, conversion and life-cycle ceremonies along with weeknight services at 7:00PM EST led by Rabbis and students of this online community.
Rabbi Blane is also the founder and director of the Jewish Spiritual Leader's Institute,
http://www.jsli.net, the online professional rabbinical program.
Sim Shalom, a non profit 501 © (3) tax-exempt organization, nurtures a Jewish connection through its mission of innovative services, creative education and dynamic outreach to the global community. For more information visit http://www.simshalom.com or call 201-338-0165.