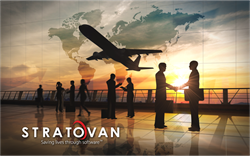 "It is a critical time right now in aviation security and teaming up with Sandia National Laboratories enables us to further establish ourselves as a leader in providing system and software solutions to the aviation security market."
Davis, CA, Livermore, CA and Albuquerque, NM (PRWEB) October 13, 2015
Sandia National Laboratories, the nations premier science and engineering laboratory for national security and technology innovation and Stratovan Corporation, a leading software house and developer of next-generation interactive visual analysis software for 3D imaging, today announced a multi-phase partnership aimed at establishing a dynamic screening system that enables seamless aviation security integration.
The Open Threat Assessment Platform (OTAP) project will lay the foundation for:

The standardization of data, images, and interfaces
A strengthened and vibrant threat detection market
Dynamic, risk-based screening
Human-centric design of threat detection technology
These concepts will be prototyped with a carry-on baggage x-ray prototype system implementing an open system architecture. This project will lay the foundation for faster product development cycles, and for future efforts expanding to other security technologies across the TSA screening equipment architecture.
"We are proud to partner with Sandia National Laboratories," said Jim Olson, CEO of Stratovan Corporation. "It is a critical time right now in aviation security and teaming up with Sandia National Laboratories enables us to further establish ourselves as a leader in providing system and software solutions to the aviation security market."
An integrated system with standardization of data, images, and user-interfaces better equips airports to deal with continually changing threats – and increases the cost-effectiveness of security solutions – by leveraging expertise and knowledge obtained at each screening stage. It also increases access to the security-technology market for vendors with newly developed technologies, which can be implemented and deployed more quickly and at a lower acquisition cost.
The collaboration between Sandia National Laboratories and Stratovan Corporation will enhance both traveler safety and screening process efficiency, resulting in a much better overall experience.
About Sandia Corporation
Sandia National Laboratories is a multi-program laboratory operated by Sandia Corporation, a wholly owned subsidiary of Lockheed Martin Corp., for the U.S. Department of Energy's National Nuclear Security Administration. With main facilities in Albuquerque, N.M., and Livermore, Calif., Sandia has major R&D responsibilities in national security, energy and environmental technologies and economic competitiveness. Please visit http://www.sandia.gov for more information.
About Stratovan Corporation
Founded in 2005 by David F. Wiley, Ph.D., and Bernd Hamann, Ph.D., Stratovan Corporation is a company that evolved from the Institute for Data Analysis and Visualization (IDAV) at the University of California, Davis. The company offers a broad range of products in innovative security screening and surgical planning software for use in orthopedics, craniofacial surgery, neuroimaging, ophthalmology, and other products to examine complex 3D shapes. Please visit http://www.stratovan.com for more information.