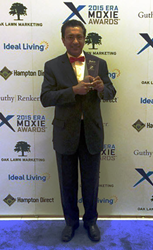 LAS VEGAS (PRWEB) October 12, 2015
DNA Response, a full service agency managing consumer brands in online marketplaces like Amazon, received the Inaugural Mercury Wing Award on Thursday, October 8, at the 2015 ERA Moxie Awards, the concluding event of this year's ERA D2C Convention in Las Vegas. DNA Response's CEO and founder was selected by the ERA Moxie Awards Task Force out of 10 well deserving nominees. The ERA Moxie Awards Task Force consisted of Gerald Bagg (Quigley-Simpson), Barbara Kerry (Script to Screen), Jack Kirby (HAVAS Edge), Andrew McLean (Mercury Media), and Elliott Segal (Guthy-Renker).
Presented by Mercury Media, the Mercury Wing Award showcases the annual achievements of direct response marketers, suppliers, technology companies and media agencies that are advancing the direct response industry as influencers and thought leaders.
"Receiving the Mercury Wing Award is a great honor for me and my team at DNA Response," said CEO Ranjit Mulgaonkar at the Moxie Awards Gala. "I want thank our customers who encourage us to innovate new technologies and services. We will work hard to make a positive impact on our customers' businesses and continue to share our experiences and expertise with the direct response industry."
Changing the way consumer product brands approach selling on marketplaces has been at the forefront of DNA's commitment to support effective marketplaces channel management in today's omni-channel environment.
To effectively reach today's consumers that engage brands across multiple channels, product companies are integrating channels with a unified strategy and a seamless brand experience. Unfortunately, marketplaces like Amazon are often overlooked as part of the omni-channel experience.
The online marketplaces channel is a critical and expanding source of revenue for product companies where more than 44% of product searches take place today (source: BloomReach); but the inability to control pricing, protect brand image and capture useable data make the channel extremely difficult to analyze and align with omni-channel strategies. DNA Response's turnkey management solution enables brands to maximize revenue and obtain crucial business intelligence to analyze trends, protect pricing and control brand presence in the channel.
During the ERA D2C Convention, Mulgaonkar and Director of Marketing and Product Nathan Grimm presented conference sessions addressing how consumer product companies and media agencies can get the most out of marketplaces like Amazon as a critical conversion path to their omni-channel DRTV campaigns.
About DNA Response, Inc.
DNA Response is a full service agency that manages sales and marketing for consumer brands on Marketplaces like Amazon. We maximize the Marketplaces channel for product companies by "selling smarter" on five of the largest online retail Marketplaces: Amazon, eBay, Rakuten, Newegg, and Sears.com.
Marketplaces represent an unparalleled opportunity for retail brands to generate sales and capture data, but the open nature of Marketplaces makes it difficult for brands to control their pricing, obtain data and maximize sales in the channel.
Over 50 consumer brands rely on DNA to maximize their revenue, protect their minimum advertised price, safeguard brand presence, and provide valuable business intelligence. Our turnkey solution includes sales, marketing, order processing, fulfillment, inventory management, and customer support - all on a pay-for-performance business model.
Maximize the Marketplaces channel for your product brand by selling smarter with DNA. Contact us today to learn how.
About the ERA D2C Convention
(source: http://site.retailing.org/d2c/about) The ERA D2C Convention is produced by the Electronic Retailing Association (ERA), the only trade association in the U.S. and internationally that represents leaders of the direct-to-consumer marketplace, which includes members that maximize revenues through direct-to-consumer marketing on television, online, mobile and on radio.