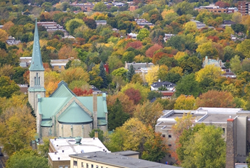 buyers have a seasonal advantage
Chicago, IL (PRWEB) October 11, 2015
Mortgage rates are holding steady, which The Federal Savings Bank thinks could make for the next few months a prime time for home buying.
In its October 1st weekly primary mortgage market survey, Freddie Mac reported that average fixed mortgage rates were mostly unchanged from last week. The rate on 30-year fixed-rate mortgages averaged 3.85 percent, a slight decrease from last week's 3.86 percent. This time last year those same mortgages averaged 4.19 percent.
"In contrast to the volatility in equity markets, the 10-year Treasury rate - a key driver of mortgage rates - varied just a little more than 10 basis points over the last week," noted Sean Becketti, Freddie Mac's chief economist. "As a result, 30-year mortgage rates remained virtually unchanged, dropping 1 basis point to 3.85 percent."
Time to make a move?
This is the 10th consecutive week that 30-year fixed-rate mortgages have fallen below 4 percent, the Freddie Mac report found. Additionally, pending home sales index dropped to 1.4 percent in August, which may suggest the selling market is slowing down.
What does this mean for those on the hunt for a new home? The Federal Savings Bank thinks it could mean buyers have a seasonal advantage. In addition to the lower mortgage rates and tempering market that Freddie Mac reported, homes are harder to sell in fall and winter.
The Federal Savings Bank knows that shorter daylight hours and the end of the peak spring and summer shopping season are reasons why houses stay on the market longer this time of year. This gives driven buyers the advantage of lower competition the next three months. Fewer shoppers seem willing to commit to a purchase when the weather is dreary.
While colder weather might give buyers some advantage, don't expect prices on those homes to drop too much. The latest September 29th Standard & Poor's/Case-Shiller home price index report found that home prices throughout the country are still rising, a trend that's continued from the last 12 months on record.
Freddie Mac also reported that 15-year fixed rates averaged 3.07 percent last week, a slight decrease from the previous week. The average rate on five-year adjustable-rate mortgages remained at 2.91 percent. One-year adjustable-rate mortgages, averaged at 2.53 percent, showed no change from last week.
Whether customer, reality or trusted referral source, The Federal Savings Bank understand how important every purchase or refinance transaction is to help our clients optimize the purchase or refinance of their home.