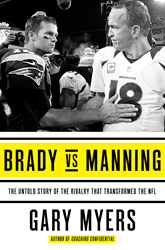 Mantle vs. Mays, Wilt vs. Russell, Johnson vs. Bird, and now Brady vs. Manning
DALLAS, TEXAS (PRWEB) October 12, 2015
NFL veteran correspondent Gary Myers explores the Brady/Manning Relationship, and their impact on the NFL. A thought provoking look inside...
"BRADY VS MANNING: The Untold Story of the Rivalry That Transformed the NFL" (Crown Archetype; September 22, 2015) is a remarkable collection of the most entertaining and revealing stories ever told about Peyton and Tom, from how they developed their vastly different leadership styles to the unlikely friendship they've built over the years, Myers delivers new stories and insight from some of the biggest names in the game.
"It's this generation's football version of Mantle vs. Mays, or Wilt vs. Russell," says Bob Costas, NBC Sports. "Arguably the two greatest quarterbacks of all time, they are living legends who have come to embody the quarterback position and shape an entire generation of the NFL. They have also been fierce rivals every step of the way, their many epic duels ranking among the best and most exciting games ever played and fundamentally shaping the lives and careers of both men."
Books are available online and in bookstores.
About the author:
GARY MYERS has covered the NFL for more than three decades. He is currently a football columnist for the New York Daily News. Myers is the author of The Catch and Coaching Confidential.
BRADY VS MANNING
The Untold Story of the Rivalry That Transformed the NFL
By Gary Myers
Crown Archetype • On Sale: September 22, 2015
Hardcover • $26.00 • ISBN 978-0-8041-3937-3
# # #