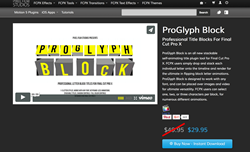 This is a great FCPX Effect for an interesting title screen.
Aliso Viejo, CA (PRWEB) October 12, 2015
ProGlyph Block is an all new stackable self-animating title plugin tool for Final Cut Pro X. ProGlyph Block is designed to work with any font, and can be placed over images and video for ultimate versatility.
ProGlyph Block includes three different presets with One, Two, and Three letter presets with selectable flip animations from every direction. Each word and phrase can be revealed with one flip, or one letter can flip into another, revealing a second or third word. Users stack each title for each individual letter.
Each letter in ProGlyph Block is contained into a title layer. Stacking titles allows users to have full animation control over each letter to collectively create words and statements. Titles can be offset for sequencing animations and randomly animating characters in and out at different points.
ProGlyph Block allows FCPX users to change the text box color as well as adjust the shadows for a more three-dimensional look. Camera angle of view is also at the users fingertips for more dramatic animations, along with adjustable speed method controls for sudden flips or smooth rotations. ProGlyph Block is a title tool designed specifically for Final Cut Pro X.
Established in 2006, Aliso Viejo, California-based Pixel Film Studios is an innovative developer of visual effects tools for the post-production and broadcast community. Their products are integrated with popular non-linear editing and compositing products from Apple FCPX. Apple, the Apple logo, Mac OS X, and Macintosh are registered trademarks of Apple Inc. in the U.S. and/or other countries. All other trademarks and trade names are the property of their respective owners.