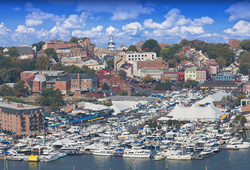 Annapolis in the fall is one of the most beautiful places in the world with great historic sites, cobblestones, crab cakes, famous Painkillers, great restaurants, and fantastic views. It is a lovely place to visit.
Annapolis, Maryland (PRWEB) October 13, 2015
Powerboats, 300 of the newest latest models and 60 previously-owned vessels for immediate sale, will fill the waters of Ego Alley in historic downtown Annapolis October 15-18, 2015. The in-water show, now in its 44th year, draws nearly 40,000 attendees and includes a variety of vessels: small ski boats, center consoles, express cruisers, and luxury motor yachts.
On land, hundreds of exhibitors will display all types of boating services and products including boat gear, clothing, accessories, electronic gadgets and gizmos, life rafts, navigational aids, radios, watersport equipment, and fishing gear. In addition, maritime-related service providers will have representatives available to field your questions. Attendees can expect to see booths for boat loans and insurance, boating clubs, and yacht management. Non-boaters will find quality items such as jackets, hats, sunglasses, shoes, boots, belts, tools, pillows, and coolers at boat show prices.
"The boats will range from 8-foot inflatables to 70-foot blue water cruisers," said Paul Jacobs, president and general manager of Annapolis Boat Shows. "Boat show visitors will find a huge assortment of every boat style imaginable; tug trawlers, downeast and picnic-style boats, weekend cruisers, and a very large selection of center consoles, ski boats, and fishing platforms."
"We want the powerboat show to be fun and interactive, so we've expanded the demonstration dock for boats, engines, and stabilization systems," Jacobs said. "The Ford Motor Company will offer test drives of their 2016 F-150 truck and demo their new trailer-backing technology."
The expanded demonstration area is where dealers and manufacturers will conduct sea trials from inside the show. The demos will feature new model boats, powerful engines and a stabilizing system designed to eliminate most boat roll.
Among the boats and engines you can "try before you buy" will be: a Chaparral 243 VRX jet boat; the Yamaha 242 Limited S and 19-foot FSH jet boats; a 35-foot signature Ribcraft; and a Bennington 21 SLX pontoon boat.
Have a need for speed? Evinrude Outboards will offer demos on two boats: a 22-foot Key West equipped with a 250 Evinrude E-Tec G2; and a 25-foot Wellcraft with twin 225 Evinrude E-Tec G2's.
Yamaha will offer similar demo rides on three boats: a 36-foot Yellowfin with triple F300's and an integrated boat control system called Helm Master; a 34-foot Jupiter with triple F300's and Helm Master; and a 24-foot Yellowfin with a single F300.
Need some stability in your life? Sea Keeper invites show-goers to experience their stabilizing product, which eliminates or reduces boat roll. According to the manufacturer, a sea trial is "the only way to truly understand how this revolutionary technology can transform your boating life."
Back on land, the Ford Motor Co. will offer demos and test drives in a 2016 F-150 truck equipped with new trailer-backing technology designed to simplify things like backing down boat ramps or backing into parking spaces.
Cruiser's University is for boaters who are preparing to live on a boat and is suitable for boaters and sailors alike. The program, previously offered only in the spring, will be conducted October 12-15, between the sailboat and powerboat shows.
Annapolis School of Seamanship and Chesapeake Bay Magazine will present free seminars. Topics include how to obtain a captain's license, diesel basics, electronic navigation, docking, and more.
A grand prize winner receives a seven-day, six-night luxury bareboat charter aboard a MarineMax Power Catamaran in the British Virgin Islands. Ticket buyers who purchase their tickets online will be automatically entered to win.
"Annapolis in the fall is one of the most beautiful places in the world with great historic sites, cobblestones, crab cakes, famous Painkillers, great restaurants, and fantastic views. It is a lovely place to visit," Jacobs added.
+++++
What: 44th United States Powerboat Show.
When: Thursday, October 15, (VIP Preview Day) 10:00 am to 6:00 pm; Friday, October 16 & Saturday, October 17, 10:00 am to 6:30 pm; and Sunday, October 18, 10:00 am to 5:00 pm.
Where: Annapolis City Dock and Harbor, and St. Mary's Cove. GPS: 1 Dock Street
Admission: $18 for adults; $5 for children ages 7-12; free for children 6 and younger. VIP Preview Day, October 15th only, $35 for all ages. Two-day packages are available. Tickets can be purchased online or at the gates. Show a barcode on your smartphone or tablet--no paper ticket necessary.
Parking: Navy-Marine Corps Memorial Stadium off Taylor Avenue $10. Free school bus shuttles run continuously to and from the show from 9 a.m. to one hour after the show closes each day.
Eastport Elementary School, across the Spa Creek Bridge, an easy walk to the show, offers parking for $20, supporting student education and enrichment, beginning at 7:30 a.m.
More Info: AnnapolisBoatShows.com or 410-268-8828.