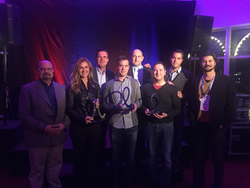 Polin Waterparks has won the prize for 4 years with its signature ride King Cobra and many other awards in different categories.
Istanbul, Turkey (PRWEB) October 14, 2015
For the third time in four years, Polin Waterparks's innovative King Cobra waterslide earned the First Place European Star Award in the category of Best Waterslide in Europe. Polin received the impressive recognition at the annual Euro Attractions Show (EAS) during a special evening event at Liseberg Amusement Park in Gothenburg, Sweden on October 6th. (If you are interested, please take a few minutes to view photos of the evening and photos of the our booth on our Facebook Page.
Unending accolades.
King Cobra has won numerous awards since its debut. The waterslide is unique not only for its appearance but also for its thrilling ride. It is a game changing waterslide. It is the first waterslide in the World that offers its own themening built in its fiberglass. Regarding its compelling looks, when maintaining its original theme, it features bold red, black and white scales that create an imposing veneer over both its exterior and interior. Its sheer size also gains respect: It reaches a massive height of 50 feet (15.24 meters) with a length of 260 feet (790 meters). Plus, the theming of KC does not need to be a King Cobra. It is compatible with different themings.
Totaly Seven Awards
Polin's awards didn't end with its singular accolade, however. Polin also was honored with seven additional awards in partnership with waterparks that feature its waterslides. Polin gave kudos to these parks in providing them with the perfect facilities in which to showcase its waterslides.
"Polin truly owe a debt of gratitude to the park owners who put their faith in them to deliver waterslides that create such dedicated fans - fans who come back over and over to be able to experience Polin rides," said Sohret Pakis, Director of Marketing and Communications for Polin, who was on hand to accept the award. "Polin rely on their partners to help us continually innovate their products to meet their and their guests' highest expectations. Polin congratulate them all and all the winners"
The partners who were also recognized at the event and received awards were:

Aqualand Frejus in France for First Place in "Europe's Best Water Slides" for Polin's King Cobra. Aqualand Frejus was the first park in France at which a King Cobra was installed. Other Aqualand facilities at which Polin has installed attractions are Aqualand Cap d'Agde, Aqualand St. Cyprien, Aqualand St. Cyr Sur Mer and Aqualand Bassin d'Arcachon.
Aqua Fantasy in Turkey for Third Place in "Europe's Best Water Parks" and Seventh Place for "Europe's Best Water Slides" for Polin's Super Combo. Aqua Fantasy has the special honor of launching one of Polin's newest signature attractions: Its first Sphere, another innovative product that is gaining growing popularity. Please see the video.
Istralandia in Croatia for Fifth Place in "Europe's Best Water Parks." Istralandia was the first waterpark ever built in Croatia. And they did expand with two new waterslides again by Polin this year. Please see the video.
Rixos Premium Tekirova in Turkey for Fifth Place in "Europe's Best Water Slides" for Polin's new waterslide Surf Safari and Tenth Place for "Europe's Best New Attractions," also for Polin's Surf Safari. Rixos is where the very first Surf Safari was installed. The park also features several other Polin attractions: a Looping Rocket, Spheres and a giant water-play structure. Please see the video.
Riviera Aquapark at Maxx Royal Resort in Turkey for Tenth Place in "Europe's Best Water Parks." Maxx Royal Resort is one of the most prestigious waterpark resorts in Turkey.
More on European Star Award:
On the occasion of the trade exhibition Euro Attractions Show, this year taking place from the 6th to 8th October in the Swedish city of Gothenburg, the most noteworthy theme parks, the best novelties, and the most spectacular attractions and coasters were honoured. In the run-up, an international and independent trade jury voted the Top 10 winners in 13 categories. All renowned park operators and manufacturers received their prizes personally. The European Star Award was launched by the trade magazine Kirmes & Park Revue in order to bring attention to innovative ideas and entrepreneurial courage within the industry.
More on Polin Waterparks
Polin was founded in Istanbul in 1976, and has since grown into a leading company in the waterparks industry. Today Polin is one of the world leaders in the design, production, and installation of waterparks, waterslides & water play attractions. 2500 waterpark projects in more than 93 countries around the world have been completed by Polin, and Polin is the biggest waterslide supplier in Eurasia. Working with a wide variety of clients has helped Polin reach several milestones; including installing the first waterparks of many countries and many other award winning rides at parks with world-renowned reputations. Polin offers the industry's widest range of products, including signature rides such as the patented King Cobra, Magic Spheres, Spheres, Magi Cone and Space Shuttle.
Polin is the pioneer in the advancement and application of closed-molded manufacturing technology in waterslide development. First implemented in 2006, 100% of Polin's annual fiberglass production has been converted to resin transfer molding (RTM), and meets the industry's highest standards. Polin offers both bowl rides and family rides featuring RTM techniques. Polin also offers its unique and patented Natural Light Effect technology, Special Pattern Effects technology in RTM and translucent RTM waterslides. Polin is an ISO9001 certificate holder by TUV Germany since 2003, all Polin slides conform to European norms, all steel parts conform to international DIN standards, all designs conform to ASTM practices, and Polin is also CSEI approved for projects in China. Polin is the only waterslide company that holds a quality certificate for all of its waterslides by TUV, and was the 2012 Export Winner of Turkey in the SMSE Category. Polin has a high plant capacity with production in Turkey. Polin's team totals 350 people, with five offices throughout the world.
Polin is committed to providing the best-quality product and service by investing in continuous research and development. The company plans to further expand its L-RTM line while introducing new signature rides and innovations.