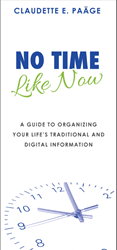 Everyone thinks they're prepared for an emergency.
New York, NY (PRWEB) October 14, 2015
Organizing important documents just became easier thanks to the new booklet, No Time Like Now, A Guide to Organizing Your Life's Traditional and Digital Information, by Claudette Paäge. Paäge is president of Paäge et Cie Personal Management Services, a company based in Scarsdale, New York, that provides personal money management services as well as daily money and lifestyle management services.
Paäge combined her extensive financial and professional experience to create No Time Like Now after spending years listening to people say they wish they had such information at their fingertips.
"Everyone thinks they're prepared for an emergency." says Paäge. "Then, the unexpected hits without warning. You're in a maddening, stressful hunt for information and documents that are critical to resolving the situation."
"Often times, it takes people weeks, even months, to find what they're looking for because they never organized any of this information. No Time Like Now gives them an important document organizer –– call it a blueprint –– for getting their affairs in order with estate and financial planning before an unexpected emergency or event occurs."
This useful booklet provides important tips for gathering and organizing critical documents, such as medical, banking, investment and real estate records, inventories of safe deposit box contents, securing digital files and travel information. The booklet also includes an important document checklist and links to valuable online resources to make the process easier.
No Time Like Now may be purchased for $9.99 for the print version and $5.00 for a downloadable PDF version.
Claudette Paäge of Paäge et Cie Personal Management Services works as a financial confidant to clients who let her into their most intimate space where she brings order to all facets of their lives. Her clients range from individuals and families to children with aging parents, busy professionals and retirees in NY, NJ or CT and greater New York metropolitan area. Paäge provides personal, household, family money and lifestyle management services. She also offers elder care management services to help older adults who live at home or in assisted living facilities meet the challenges of everyday living with dignity and grace. Get more valuable tips and information by visiting Claudette's blog.