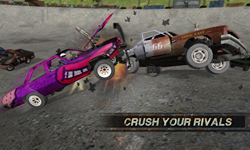 We are extremely thankful to our community
Amsterdam (PRWEB) October 13, 2015
Lunagames is proud to announce that Demolition Derby: Crash Racing has exceeded 6 million downloads since its launch back in June. The free-to-play game can be downloaded from your favorite appstore through the Demolition Derby Site and is available on the App Store, Google Play Store, Amazon Appstore, and the Windows (Phone) Store.
The dream to sit behind the wheel of a demolition derby car and smash other rivals to pieces has clearly sparked the imagination of smartphone and tablet gamers around the world.
"We are extremely thankful to our community," said Richard Hazenberg, CEO at Lunagames. Through their quality feedback and enthusiasm, we have been able to improve the game bit by bit. "We have further improvements and content updates planned for the near future."
New features that are currently in the game include additional cars, a first person camera perspective, new upgrades, and an online endless game mode. Furthermore, Lunagames is planning a multiplayer mode for the game.
For more information regarding Demolition Derby: Crash Racing, please visit http://www.DemolitionDerbyRacing.com.