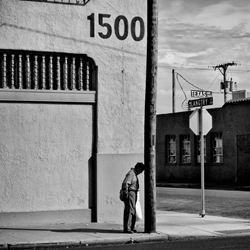 Black's searing images depict what America looks like to the more than 45 million people living in poverty. 'Geography of Poverty' puts a human face on the staggering statistics
New York, NY (PRWEB) October 14, 2015
The W. Eugene Smith Fund is pleased to announce that Matt Black is the recipient of its 2015 grant in humanistic photography for his project, The Geography of Poverty, which takes a hard look at poverty in America and challenges leaders and citizens alike to address fundamental inequalities across society. The project's objective is to look at the cost and consequences of poverty and help facilitate fundamental changes in society while narrowing the distance between the haves and have-nots. The $30,000 grant was presented to Matt Black, a photographer at Magnum Photos, during the foundation's 36th annual awards ceremony at the SVA Theater in New York City.
"I'm deeply honored and humbled to receive the W. Eugene Smith Grant for Humanistic Photography," said Matt Black in a recent interview. "The support this grant gives my work is invaluable."
After two decades of photographing poverty, migration and farming in California's Central Valley, Black set out to discover other poverty-stricken towns across the U.S. Unfortunately, they weren't difficult to find. The cross-country trek, supported by MSNBC, the Magnum Foundation, the Pulitzer Center, and the Economic Hardship Reporting Project, documented the stories of individuals and communities from America's poorest regions. Black's goal was to cross the country without ever crossing the poverty line and profiling cities and towns of all sizes and sharing specific issues facing each community.
"There are 46 million people living in poverty in the U.S. Since the year 2000, the number of people living in communities of 'concentrated poverty' has doubled," Black explains. "The Geography of Poverty combines geotagged images with census data to map and document these communities across the U.S."
"Black's searing images depict what America looks like to the more than 45 million people living in poverty," explains Brian Storm, Chair of the 2015 W. Eugene Smith Memorial Fund grant and Founder of MediaStorm. "Geography of Poverty is an 18,000 mile journey that puts a human face on the staggering statistics."
Mary F. Calvert and Marcus Bleasdale were also honored as co-recipients of the Smith Fund Fellowship for their respective projects and will share the $5,000 award. Calvert's project, The Battle Within: Sexual Violence in America's Military, exposed the effects of Military Sexual Trauma on the estimated 19,000 victims that are raped or sexually assaulted each year in America's military. "Eugene Smith was the paragon of documentary photojournalism and with great courage he dedicated his life and sacrificed his own health to tell the stories of disaffected people in an honorable and respectful way," Mary F. Calvert said. "To be named the recipient of a fellowship in his name is one of the greatest honors that I can imagine."
Marcus Bleasdale received recognition for Financing the Failure of a State which studied the turmoil in the Central African Republic and the impact a state's failure has on its people. "It is such a huge honor to receive this year's Smith Fellowship," explains Bleasdale. "Given what Eugene Smith stood for and the advocacy he worked towards, it is humbling to be a recipient this year. I hope the work I continue to do in the Central African Republic will draw attention to the issues in a manner similar to the way that Eugene Smith managed to do with his incredible work." A new book titled, "The Unravelling: Central African Republic," which documents Bleasdale's project, has been published by FotoEvidence.
"Calvert and Bleasdale have demonstrated incredible commitment to their projects," explains Storm. "These are not easy issues to document. The time invested shows in their work and the impact they are creating with their coverage is at the core of photojournalism's mission to create change."
Judges for this year's grant and fellowship included Brian Storm, founder of MediaStorm and this year's adjudication committee Chair; John Temple, president of First Look Media; and Stephen Mayes, executive director of the Tim Hetherington Trust.
Recipients of the 2015 W. Eugene Smith Memorial Fund grant and fellowship were selected from more than 220 submissions received from 40 countries. Recent recipients of the grant include Joseph Sywenkyj (2014), Robin Hammond (2013), Peter van Agtmael (2012), and Krisanne Johnson (2011). A complete listing of recipients can be viewed at SmithFund.org.
This year's Howard Chapnick Grant was presented to Tom Garber from Third Wave Films for Pixel Nation, a film project about how digital technology has taken us to a world of shared images with a far greater collective and political impact than at any point in our history. The project looks at the origin of photography 175 years ago and clearly gives credit to George Eastman for showing us how to see, and what to look for, when taking pictures. "I am honored to have Pixel Nation added to the list of other distinguished Howard Chapnick recipients," said Tom Garber. "Beyond the monetary value, the prestige of being recognized by this Foundation will go a long way in aiding in the completion of this project."
This year's recipients presented their work during the annual awards ceremony at the School of Visual Arts (SVA) Theater in New York City Wednesday evening. David Remnick, Editor at The New Yorker, gave the keynote presentation. Remnick has been editor since 1998 and a staff writer since 1992. He was named Editor of the Year by Advertising Age in 2000 and is the author of six books, including Lenin's Tomb: The Last Days of the Soviet Empire, which earned him a Pulitzer Prize in 1994.
Financial support for the W. Eugene Smith Memorial Fund comes from the American Society of Media Photographers (ASMP), Anastasia Photo, Canon USA, The Harbers Family Foundation, and Swann Auction Galleries. Additional Smith Fund support is provided by Aperture Foundation, Brilliant Graphics, International Center of Photography, MediaStorm, Photo District News (PDN), Center for Creative Photography (CCP), the School of Visual Arts (SVA) BFA Photography, MFA Photography, Video and Related Media Department, and Synergy Communications, Inc.
The 20th annual Howard Chapnick Grant is sponsored by The Harbers Family Foundation.
About The Smith Fund Grant
The W. Eugene Smith Memorial Fund is presented annually to photographers whose work is judged by a panel of experts to be in the best tradition of the compassionate dedication exhibited by W. Eugene Smith during his 45-year career in photojournalism. The grant enables recipients to undertake and complete worthy photojournalistic projects.
EDITOR'S NOTE:
Images from this year's award recipients are available upon request. Please contact Lou Desiderio at lou(at)pr-synergy(dot)com to receive hi-res photos and captions.