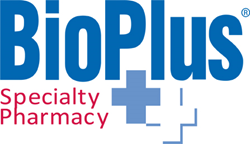 Altamonte Springs, FL (PRWEB) October 13, 2015
BioPlus Specialty Pharmacy (BioPlus), one of the nation's leading innovative specialty pharmacies, developed the 'Pay It Forward' program in 2013 which partners with several non-profit patient foundations by making donations for every referral received at BioPlus.
So far this year, BioPlus has donated over $62,000 through 'Pay It Forward' to multiple patient foundations and nearly $120,000 since the beginning of the program in 2013. These foundations provide grants and co-pay assistance to help cover high co-pays and deductibles for patients in financial need who are facing complex diseases. The donations from BioPlus help these foundations reach more patients who would otherwise be unable to afford their specialty medications.
"Part of the mission of BioPlus is to give back to our community," shares Karianne Rosado, Director of Accounting for BioPlus. "There are so many patients who face the financial pressure of treating complex diseases. It makes me feel good to know that here at BioPlus we can assist those in need."
Pay It Forward is linked to another program at BioPlus: the '2-Hour Patient Acceptance Guarantee' which provides fast turn-around from patient referral to acceptance. This guarantee lets physicians quickly know if their patients are admitted pending insurance qualifications or are non-admitted and will need to be transferred to another pharmacy. BioPlus makes a donation, through Pay It Forward, to a non-profit patient foundation for every referral that takes longer than two hours. A smaller donation is also made for all the referrals that make the deadline.
In addition to Pay It Forward's donations to patient foundations, BioPlus provides direct assistance to patients who would benefit from being connected to foundations, by helping process foundation paperwork for patients and stay on top of grant renewals to ensure uninterrupted treatment. During the first 9 months, BioPlus' financial assistance program assisted patients with over $20 million in grants, co-pays, and donations.
About BioPlus Specialty Pharmacy
BioPlus Specialty Pharmacy is the first specialty pharmacy to introduce a two-hour turnaround from referral to patient acceptance. BioPlus... Where healing begins in 2 hours. Our company celebrates 26 years of innovative excellence in specialty pharmacy, working closely with payers and the pharmaceutical industry, as well as with prescribers to get prompt treatment for patients, and directly supporting our patients nationwide to achieve optimal health outcomes. Our proprietary web tool Tap App, connects prescribers to the pharmacy by bringing the pharmacy chart into the doctor's office with real-time specialty pharmacy information and treatment monitoring.
BioPlus provides a complete range of specialty services, including for hepatitis C, multiple sclerosis, cancer, bleeding disorders, and other complex, chronic conditions. BioPlus, a privately-held, pharmacist-owned company based in Altamonte Springs, Florida, is accredited by URAC, VIPPS, and the Accreditation Commission for Health Care (ACHC).
For information: http://www.bioplusrx.com or
Contact: info(at)bioplusrx(dot)com
Phone: 1-888-292-0744
###