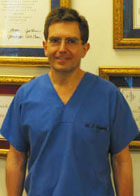 Bethlehem, PA (PRWEB) October 15, 2015
Patients who want to improve their confidence and oral health are urged to take advantage of Dental Hygiene Month by receiving gum recession treatment in Bethlehem, PA, from Dr. Joseph Gaspari. In addition to embarrassment and diminished self-esteem, patients who have receded gums are also commonly afflicted with sensitive teeth, due to excessive exposure to elements of air. Dr. Gaspari can now treat this condition with the convenient and minimally-invasive Chao Pinhole® Surgical Technique (PST™).
Dr. Gaspari honors Dental Hygiene Month by encouraging all patients with gum recession in Bethlehem, PA, to enhance their oral health and the quality of their life, with the help of PST™. This modern procedure is gaining in momentum, due to its gentle and minimally-invasive nature. It is also a convenient alternative to gum grafting procedures, due to its minimal time requirement to perform, providing patients an expedited recovery period with less inconvenience on routine activities. Those who have sensitive teeth, due to receding gums, are urged to seek treatment before the effects of more detrimental conditions occur. If gum recession is allowed to progress unimpeded, the affected patient may eventually experience tooth loss.
Those who want to minimize the effects of gum recession are encouraged to inquire about how PST™ can assist. During this procedure, periodontal tools are inserted through a tiny hole in the gums. These tools are then gently utilized to loosen the gum tissue, repositioning the gums downward or upward to cover a greater surface area of the root. Dr. Gaspari may treat multiple areas of the mouth during one office visit, while providing patients noticeable results immediately following completion.
Dr. Gaspari encourages adults with sensitive teeth from gum recession in Bethlehem, PA, to make an appointment to receive the PST™ procedure at his practice during Dental Hygiene Month. Once treatment is received, most patients notice an immediate improvement in their oral health and confidence.
About the Practice
Gaspari Family Dental Care is a general practice offering personalized care for patients in Bethlehem, PA. Dr. Joseph Gaspari and his team are dedicated to providing comprehensive dental care through the use of innovative and modern techniques. Gaspari Family Dental offers a variety of other services such as laser gum surgery, Chao Pinhole® Surgical Technique, sedation dentistry and dental implants. Dr. Gaspari is a Fellow with the International Congress of Oral Implantology and with the Misch International Implant Institute. He is also a member of the American Academy of Periodontology and the American Society for the Advancement of Aesthetics in Dentistry. To learn more about the services offered at Gaspari Family Dental Care, please visit their website, http://www.drgaspari.com or call (484) 552-2081 to schedule an appointment.