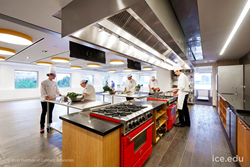 The ranges were custom made for ICE by BlueStar®, a pioneer and manufacturer of high-quality, reliable, professional-grade cooking equipment for the home.
Reading, Pa. (PRWEB) October 14, 2015
BlueStar®, manufacturer of professional-grade, customizable appliances for the home, was once again selected as the official cooking range for the recreational kitchen classrooms at The Institute of Culinary Education's (ICE®) new home in New York City.
BlueStar commercial gas stoves were used for the past four years at the school's former location where the appliances saw more gastronomic action in 48 months than most appliances experience in a lifetime. ICE is New York City's largest, most active center for culinary education and this vigorous daily use is a testament to the quality engineering and superior performance of BlueStar cooking equipment. Handcrafted in Reading, PA since 1880, BlueStar brings proven, unmatched cooking performance into the recreational and home kitchens.
"Each year, more than 26,000 cooks tie on an apron in ICE recreational cooking classes, while an additional 20,000 guests attend our cooking events. To serve the curiosity and passion of our growing community of food enthusiasts, we needed a partner who would embody both the professional standards of our kitchens and our creative spirit," said Rick Smilow, ICE President and CEO. "That's why we've partnered with BlueStar—the leading manufacturer of high-performance, professional ranges for the home. We're proud to have them as the official cooking range of ICE's School of Recreational Cooking."
"We are proud to have been selected as the exclusive provider of recreational stoves for the new ICE. With the breadth and depth of classes that they run, students will truly be able to test their skills on our professional grade ranges. The ranges were custom made for ICE, as are all BlueStar products, but all our products offer power, performance and customization to the home chef," said BlueStar President Mike Trapp. "We're excited that students and professional chefs alike will have the opportunity to cook on a BlueStar and see the difference a pro-style range can make."
Power, Performance & Customization for the Home Chef
BlueStar commercial gas stoves are designed for discerning home chefs who demand restaurant-quality results in their own kitchens. Built with the highest-quality materials and the distinctive workmanship that comes from 130 years of expertise, BlueStar offers a fully customizable line to suit the specific needs of the home chef. The BlueStar trademark PrimaNova® burner produces 25,000 BTUs of cooking power, and the unique open burners provide superior heat distribution for even cooking. BlueStar ranges offer the industry's largest oven capacity and can accommodate a full size commercial 18"x 26" sheet pan. Its heavy duty, durable design offers sturdy, all stainless steel construction.
What's more, BlueStar pro appliances are available in 750+ colors and finishes, as well as custom-colors, and offer endless cooktop configurations. BlueStar ranges, wall ovens and ventilation hoods are available in a painter's palette of colors – from vibrant Ruby Red to subdued Stone Gray –to complement any kitchen décor. For information, visit http://www.bluestarcooking.com.