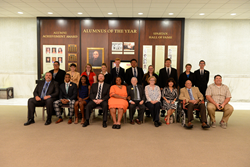 "We are pleased to welcome these esteemed alumni into our Spartan Hall of Fame – one of the highest honors that can be bestowed on our graduates," said MHS President Pete Gurt '85.
HERSHEY, Pa. (PRWEB) October 12, 2015
Graduates of Milton Hershey School who made their mark in the areas of athletics and visual and performing arts were inducted into the Spartan Hall of Fame on Sept. 25, during Homecoming weekend.
"Homecoming at Milton Hershey School is unique because our campus is a home for our students and we are truly a family," said MHS President Pete Gurt '85. "We are pleased to welcome these esteemed alumni into our Spartan Hall of Fame – one of the highest honors that can be bestowed on our graduates. We thank them for the enduring contributions they have made to our school."
Nine alumni and one retiree were presented special trophies during the ceremony, which celebrated their achievements and outstanding commitment to excellence.
Visual and performing arts honorees included:

Royal Wetzel '58 played piano for the Spartan Orchestra and Spartan Band and was the accompanist to the Glee Club. Wetzel currently resides in Louisville, Ky.
Wayne DeMarco '74 was a charter member of the International Thespian Society, headed the stage crew from 1972-74 and earned a varsity letter for dramatics. DeMarco, who was inducted posthumously, was a resident of Sowagiac, Mich.
Nadine Hokayem '89 was a member of the Varsity Choir, Girls' Chorus and New Horizons. Hokayem traveled the state competing in singing competitions. She now resides in Bridgeport, Conn.
Daniel Weishampel '98 designed the patch on today's chapel blazers and has been a lifelong artist. Weishampel's work has been featured in the Clyde Stacks Visual Arts Center. He is a resident of Hershey.
Eti-ini Enyong '05 was a member of the Varsity Choir and New Horizons and a soloist at several MHS events. He was selected for the Lebanon Valley Chamber of Commerce Excellence in Education Award, which recognizes the top 5 percent of graduating seniors in the region. Enyong now lives in Chelsea, Mass.
"As I've gotten older, I've wondered what my legacy would be," said Wetzel. "Then I got my answer in the form of a letter from MHS notifying me about this honor. It couldn't have come from a better place."
Athletes who were inducted in the Spartan Hall of Fame included:

Joseph Rhone '53 excelled at football, baseball and basketball. He was the No. 1 pitcher for three straight years and scored 111 points during one basketball season. Rhone currently resides in Steelton, Pa.
Lisa (Shockley) Smith '85 was a record-setting shot put and discus thrower. She won first-place at several meets and was named to the All-League All-Star team by The Patriot-News. Smith is now a resident of New Castle, Del.
Martin Buzas '88 lettered in both wrestling and football for three years in a row. He set the record in wrestling for most wins in a single year and ranks third for career wins at MHS. Buzas now lives in North Cape May, N.J.
Abigail Johnson '06 won first place at the district and state championships in three races during her junior and senior year. She received a scholarship to run at Georgetown University. Johnson now resides in Richmond, Va.
Cliff Ainsworth, retired MHS athletic director, served the school for 37 years as a coach and athletic administrator. He coached 52 seasons in football, basketball and baseball. Ainsworth retired from MHS in July and resides in Hershey, Pa.
"So many great individuals have received this award, and I'm blessed and thankful to be among them," said Johnson. "I'm excited to leave a legacy, and I hope my story encourages others."
To be considered for induction into the Spartan Hall of Fame, an individual must be nominated and then approved by a selection committee. Nominees must have demonstrated good citizenship as students and since graduation.
ABOUT MILTON HERSHEY SCHOOL
Milton Hershey School® is one of the world's best private schools, offering a top-notch education and positive home life to children in pre-kindergarten through 12th grade from families of lower income at no charge. Learn more at [mhskids.org __title__ ]