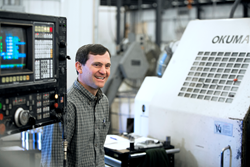 The reliability of Okuma machines plays a huge role in our success.
Charlotte, NC (PRWEB) October 14, 2015
CHARLOTTE, N.C. (October 14, 2015) – Okuma customer Karlstadt Machining, recently purchased a new GENOS M560-V vertical machining center to keep up with their expanding machining business.
According to owner Dave Karlstadt, Okuma machines play a huge role in his shop's success.
Dave Karlstadt made a decision a few years ago to add manufacturing to his business portfolio to balance the slow periods of his work as a steer farmer. After some thorough CNC machine tool research he decided to invest in a few used Okuma machines citing their reliability, accuracy and ability to produce quality parts on time. In six short years his machining business has doubled in size moving into a new 12,000 square foot facility. Dave Karlstadt knew it was time to upgrade to the latest CNC machining technology to keep up with current demand so he added the GENOS M560-V to his shop.
The flexible and affordable GENOS easily handles cutting large parts for the oil and steel industries he primarily serves. "With the GENOS functionality we're able to run parts in less time and compete with the rest of the world," says Dave. His shop now boasts 19 Okuma machine tools. Karlstadt's full service distributor, Gosiger, was helpful in the decision making process and ensures that Karlstadt's machines tools are running at peak performance.
In addition to reliability, flexibility and quality of Okuma machines Dave Karlstadt also cites the Mid-Auto function on the control as a feature he can't live without. "In the middle of the program, at any point in time, you can completely stop the machine and then hit restart, and it goes right back to where it came from. That's a pretty nice feature," says Karlstadt.
"The reliability of Okuma machines plays a huge role in our success. We don't have to worry about downtime. Our direction for the next five years will be to add a couple more GENOS machine tools, plus a horizontal machining center with a pallet changer. Being able to produce quality parts on time is our biggest advantage."
The Karlstadt Machining story and other Okuma customer testimonials can be found at http://www.okuma.com/testimonials. If you would like to share your company story through an Okuma testimonial visit http://www.okuma.com/tellyourstory.