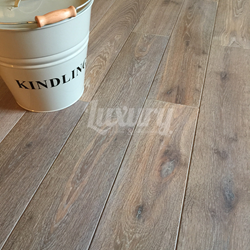 Leeds, United Kingdom (PRWEB) October 14, 2015
Rising flooring brand raises temperatures with their hot deals in the cold autumnal weather.
LuxuryFlooringandFurnishings.co.uk have been delighting customers with their high quality and affordable flooring solutions for the last three years. With offices in Leeds and UK mainland shipping, there is no one who can not benefit from a beautiful hardwood floor.
Solid wood flooring is made from a single piece of timber, which provides a beautiful, natural finish, boasting natural character that is intrinsic only to hardwood floors. From interesting grain patterns and markings to knots and the occasional mineral streak, these floors ooze charm, elegance and make a real statement about your home. Starting as low as £28.99 plus VAT, these floors come in a variety of different finishes and shades that will compliment any room. From the classic Natural Pearl Satin to the Coffee Brushed and Lacquered and shades in between, they have a floor to sate the most discerning palate.
All of their solid wood floors are milled by CNC machines to provide a Tongue & Groove or "Click" jointing method. This allows for pain free fitting for the majority of installations, knowing that each board is as consistent as the last. Their new range of floors are 20mm thick, meaning that these floors can be sanded and refinished more times than their 18mm counterparts. All hardwood flooring is easy to clean with a vacuum and a damp mop, in addition to not holding on to allergens, such as pet hair and dust. This is particularly desirable for Asthmatics and air quality conscious people alike. Other benefits include the strength, durability and the quality of the finish. Last but not least, there is the added investment factor. Even in today's fickle housing market, homes with hardwood floors tend to sell faster and at a higher price than those without.
How do you keep your new hardwood floor looking great?
Hardwood floors are not bullet proof, but lets face it; who wants a concrete floor in their living room? Hardwood floors need a little TLC every week or so in the form of a vacuum and damp mop (note the emphasis on "damp" NOT "wet"). LF&F stock a range of top quality maintenance products that are a breeze to use. They will keep your floor looking great for years until the time comes when you may wish to refinish the floor to make it new again.
When should you refinish your hardwood floor?
There are no hard and fast rules when it comes to refinishing your hardwood floor. Sanding and refinishing is pretty straight forward with a belt or orbital sander and gives you the opportunity to experiment with different stains, tints and finishes before the final coat of lacquer. The general view is that regular maintenance should prevent you from needing to refinish your floor for 15 years. This means that your hardwood floor will last not just years, but generations.