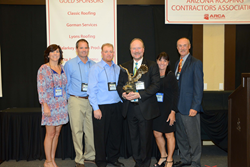 We are happy that our peers recognize the high level of ethics and integrity by which we operate." says Chuck Chapman, President of Tecta America, Arizona
Rosemont, IL. (PRWEB) October 14, 2015
Tecta America, Arizona is excited to announce they have been awarded the Joe Bueche Memorial Award: Roofing Contractor of the Year Award from ARCA during the 46th Annual Convention October 3rd in Prescott, AZ.
The Joe Bueche Memorial Award is awarded for strict adherence to workmanship standards, exemplary ethics in all business dealings, corporate citizenship, and integrity and conduct that reflects positively on the roofing industry.
The Arizona Roofing Contractors Association is a statewide roofing association with over 250 members dedicated to construction worker safety, strict adherence to workmanship standards, and building consumer confidence in the professionalism of the roofing trade.
"Tecta America Arizona is honored to have received this award. To be singled out amongst so many fantastic ARCA Roofing Contractors is truly an honor. We are happy that our peers recognize the high level of ethics and integrity by which we operate." says Chuck Chapman, President of Tecta America, Arizona
More information about the ARCA can be found on their website, http://www.azroofing.com. For more information about Tecta America, Arizona, visit the Tecta America website.