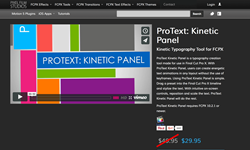 This FCPX Plugin comes with many great presets.
Aliso Viejo, CA (PRWEB) October 13, 2015
ProText Kinetic Panel is a typography creation tool made for use in Final Cut Pro X. With ProText Kinetic Panel, users can create energetic text animations in any layout without the use of keyframes. Using ProText Kinetic Panel is simple. Drag a preset into the Final Cut Pro X timeline and stylize the text. With intuitive on-screen controls, users can re-position and scale the text. ProText Kinetic Panel will do the rest.
ProText Kinetic Panel is a text animation tool that allows Final Cut Pro X users to creatively display text without having to use keyframes. With this volume of ProText Kinetic, users can easily twist, turn, and split text using intuitive on-screen controls. ProText Kinetic makes advanced typography panel creation as simple as drag and drop.
Create any layout with ProText Kinetic Panel presets. ProText Kinetic Panel allows users to add text from any side and at any angle. Additionally, ProText presets may be scaled to any proportion to match the scene properly. Utilize easy on-screen controls to get the desired look. Get creative with this amazing edition from the ProText series.
By combining ProText Kinetic Panel with ProWall Kinetic, users can add both kinetic typography and images to title sequences. With these two plugins the possibilities are endless.
ProText Kinetic Panel is ready for use, however users can find advanced controls in the top-right inspector window. Included is the ability adjust the speed method for both text animations and the adjustment layer below. Create amazing typography with Pixel Film Studios ProText series.
Established in 2006, Aliso Viejo, California-based Pixel Film Studios is an innovative developer of visual effects tools for the post-production and broadcast community. Their products are integrated with popular non-linear editing and compositing products from Apple FCPX. Apple, the Apple logo, Mac OS X, and Macintosh are registered trademarks of Apple Inc. in the U.S. and/or other countries. All other trademarks and trade names are the property of their respective owners.