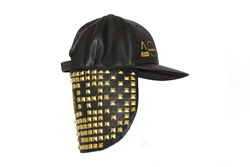 (PRWEB) October 15, 2015
ASAVVI, today's most versatile fashion-forward men's and women's clothing brand, is proud to announce the launch of its never-before-seen sun hats, gold detailed T's, and screen printed merchandise. Utilizing new, innovative designs and styling possibilities, ASAVVI presses the boundaries of fashion and lifestyle brands seen today.
Made of the highest quality leather materials, ASAVVI's new, multipurpose sun hats change the way shoppers can style their looks. ASAVVI sun hats feature gold detailed studs, logos, and neck flaps which can be removed, transforming a customer's look within moments and making these unique, trend-setting sun hats a first for the fashion industry.
The brand's new line also features various short and long-sleeved T-shirts and tanks made with 100% mixed and hand-rung cotton and feature gold and white logo designs highlighting the brand's overarching message. The two halves of the pyramid design, inspired by Egyptian hieroglyphics, printed on the face of the shirt symbolize life's challenges, and what it takes to accomplish goals and dreams.
"ASAVVI isn't just a clothing brand," says ASAVVI founder and designer Sergio Santana. "It's a means by which clients can feel connected to the world, to their goals, and ultimately to their dreams."
Through the launch of this innovative new line, ASAVVI emphasizes their primary objective that pressing the boundaries of fashion and self-expression is representative of how their clients should live: confidently and meaningfully.
To see all ASAVVI's products, please visit their website at http://asavvi.com/shop/.
About ASAVVI:
Overall, the meaning of ASAVVI is simple yet profound. The company understands that rising to the occasion is difficult and seldom initiated. Looking down a long road, the first step can seem excruciatingly tough and painful, and especially overwhelming. ASAVVI knows the power and energy of the thought, the word, the hieroglyphic, and the action. We encourage all to take the initiative.
ASAVVI – the apparel company that instinctively knows that how you feel on the inside reflects on the outside, and when you look good, you feel great!