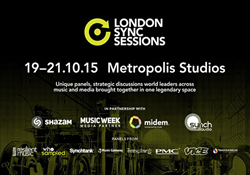 This year the music industry has its eye on the London Sync Sessions, held at the Metropolis Studios from the 19th-21st October.
London, England (PRWEB) October 13, 2015
London Sync Sessions will be hosted from Europe's #1 Independent Recording Studio: Metropolis Studios. Metropolis is home to some of the best mastering engineers in the world, offering full artist and studio services. Industry creatives attending the sessions held at Metropolis are surely in for a rare treat when they catch a glimpse of their distinguished surroundings.
London Sync Sessions will Highlighting the 3-day event headed by a list of over 30 of the sync industry's contemporary leaders, pivotal discussions between attendees, their peers and "those in the know", as well as partnerships with global companies including SynchAudio, Shazam, Music Week Media Partner, and MIDEM.
Two panels in the spotlight include "The Art of Music Supervision in Indie" presented by award winning music supervisor Nora Felder ( Picture Music Company ) in conjunction with SynchAudio. We are pleased to include 3 music supervisors leading the session: Matt Block of Flavorlab (film and TV audio post production as well as music sourcing and supervision), David Weiss of The SongHunters (a service for media professionals created by top music supervisors) and Lindsay Bea Davis of VICE Media Music Supervision (proponents of global oriented investigative journalism and award winning documentaries).
These supervisors will speak about the latest placements they made with indie artists. They will cover topics including how they accept music, how they score it to just the right project, metadata structuring, and the best way to secure placement. It's a 45-minute panel at Metropolis Studios, moderated by Roman Riccio, SynchAudio metadata and IT Specialist.
Additionally, SynchAudio will be presenting the next "Sync Songwriter Workshop", alongside The SongHunters, FlavorLab and Vice Media. The Sync Songwriter Workshop is limited to 10 attendees and provides the unique opportunity for participants to play their material for the panel of music supervisors. It's recommended for interested artists, publishers, and record label executives to apply early to secure their spot. This session will again feature Lindsay-Bea Davis, Matt Block, and David Weiss as they provide production tips as well as insightful feedback on whether the recorded material would find a place in TV, film or video sync. In addition they'll inform the intimate group on how to maximize their chance of placement. The session will be held on Tuesday, 20th October, 2015, from 10:30am-1:30pm, also at Metropolis Studios.
Farinoush Mostaghimi of SynchAudio joins the queue of publishers, record labels, film and TV producers, sync consultants and supervisors, all providing their unique perspectives, stimulating debate on current issues facing today's industry. Panelists will speak directly to the needs of patrons by offering constructive and effective advice. Panels will be presented by other recognized names including Resilient Music, Who Sampled, SyncTank, Music Gateway, the Eggplant Studio, PMC, VICE Media, Tracks and Fields. While many of these lectures have already been announced, there are still more to be revealed along the way.
London Sync Sessions promises to be the European sync event of the year, and it only follows suit that SynchAudio, a Toronto based boutique media management & licensing company, be on board as one of the major associated brands. After a successful MIDEM 2015 in Cannes, where SynchAudio Founder Farinoush Mostaghimi was named a 'Top Influencer' and her company was given one of the coveted high spots for social media participation, the relatively young synchronization and artist management business has quickly cemented its place in the music industry.
For managers, producers, artists and composers, the London Sync Sessions will be an indisputable opportunity for career growth and industry networking. However, music professionals are advised that these sessions will admit only 200 guests. Held in the intimate setting of professional working studios, participants are strongly urged to book their session tickets and arrive punctually to ensure a seat. The location is equally as illustrious as the event.
When the networking and lecturing day is done, there will be exciting live music showcases from emerging UK and European talent such as Of Empires, The Beach and John Fairhurst.
London Sync Sessions panels will be providing a diverse but in-depth view on the business of synchronization. If you're in the music industry, the London Sync Sessions are calling.
Join the discussion on the London Sync Sessions: http://www.londonsyncsessions.com/
See more about Metropolis Studios here: http://www.thisismetropolis.com/
SynchAudio is a Toronto based boutique media management & licensing company focusing on Multi-Media Initiatives. Follow @SynchAudio for more great music industry news or log on to synchaudio.com to preview their extensive catalogue.