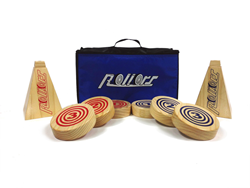 "Perfect for the beach or the lawn" Travel and Leisure Magazine
Florida, USA (PRWEB) October 14, 2015
Rollors® is an exciting game for the entire family that combines the most enticing parts of a few classic outdoor activities into an interesting new package. Inspired by the challenge of horseshoes and the sleek bowling nature of bocce ball, Rollors® seeks to thrill players by utilizing these favored features while adding a few twists of its own. As friends and family begin to arrive from out of town, kick off the festivities by bringing a whole new dimension of fun to the holidays.
Each game is composed of two sets of colored rollers and goal posts, which can accommodate anywhere from 2-6 players. To play, contestants take turns rolling the smooth circular discs and tallying up their points based on how close they come to the goals. Each disc has two different numbers on its sides that are used for calculating points depending on which value is showing when it lands. Whichever team scores 21 points is then declared the winner--complete with bragging rights.
It can be used in the backyard, front yard, or anywhere with an appropriate level surface, and comes in an easily transported carrying case that makes setup and breakdown a breeze at any event. Whether it's toted along to the party or gift wrapped and ready to make its debut, Rollors® will provide hours of interactive entertainment.
Rollors® was created by Minnesota-native and U.S. Air Force Officer Matt Butler during his downtime between deployments overseas. After perfecting his prototype at local barbecues and parties, Butler started hiring out of work veterans with woodworking skills to craft the game, providing them with jobs when many were unemployed due to the recession. Since then the business has surpassed his at-home workshops, but he continues to consult with veterans on how to effectively manage their inventions and become entrepreneurs themselves.