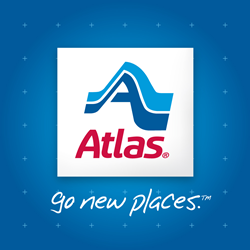 Evansville, Ind. (PRWEB) October 12, 2015
One of the nation's leading moving companies, Atlas Van Lines, celebrated hundreds of truck drivers, otherwise known as professional van operators (PVOs), during its annual driver appreciation event Sept. 21-25. Having celebrated its 28th year, BRAVO (Boosting Recognition of Atlas Van Operators) is a week-long appreciation of the hardworking individuals who travel the country and assist Atlas customers on a daily basis.
More than 1,920 BRAVO event celebrations took place at nearly 160 participating Atlas agencies throughout the U.S. and Canada. A 2015 video, It Takes A Lot To Be A Pro, can be viewed here: https://www.youtube.com/watch?v=i1hmAr2qYAo&noredirect=1.
One of the grandest ways Atlas and its agencies recognized PVOs was through a "Best of the Best PVO" contest where employees nominated the best PVOs in the business. Following nominations, a shortlist was made available to the public for voting. There were more than 6,600 votes. Each shortlisted PVO received a box of cookies in the mail prior to the event. The winners and runners-up also received gift cards.
New for 2015, Atlas also sent gifts to PVOs who achieved a certain mileage requirement throughout the year. Approximately 1,800 van operators received a blanket and personalized thank you card from an Atlas employee, ranging from office staff, executives, dispatch, operations, and more.
Other gestures of appreciation throughout agencies ranged from home-cooked breakfasts to luncheons to BBQ dinner celebrations for PVOs and their families.
"Year after year, our PVOs play a vital role in helping our company prosper and also continue to grow," said Glen Dunkerson, chairman and CEO of Atlas World Group. "These individuals are invaluable to our success and we are so grateful for their expertise and dedication to serving customers. It's our honor to celebrate and reward them however we can."
Ranked among the best moving companies, the Atlas Van Lines agency network shares resources and utilizes PVOs to meet with customers, prepare estimates and provide moving advice. For more information about BRAVO, visit http://driveatlas.com/events/bravo.
About Atlas Van Lines
Atlas Van Lines, a national moving company, is the largest subsidiary of Atlas World Group, an Evansville, Ind.-based company. Atlas World Group companies employ nearly 700 people throughout North America. Nearly 500 Atlas interstate moving agents in the United States and Canada specialize in corporate relocation, household moving services and in the transportation of high-value items such as electronics, fine art, store fixtures and furniture. For more information, visit http://www.atlasvanlines.com.