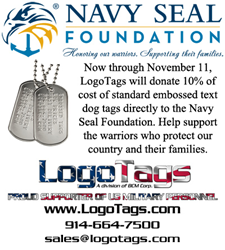 Mount Vernon, NY (PRWEB) October 13, 2015
LogoTags, the industry leader in custom dog tags and longtime supplier of dog tags and ball chains to the US military, is proud to announce that it will donate 10% of the sales cost of standard embossed text dog tag orders now through November 11, 2015 to the Navy Seal Foundation.
Donations generated by the sale of the Standard Text Dog Tag help the Navy Seal Foundation support their families here on the home-front by:

Providing tragedy assistance for those who have lost a loved one in training or combat
Supporting events and retreats to bring Naval Special Warfare families together
Awarding scholarships and providing educational assistance to active duty personnel, their spouses and children
Preserving the rich history and heritage of the Naval Special Warfare community
Helping to continue to develop programs so that when the men leave on deployment, they and their families know they will have the best available support here at home.
The dog tags can be ordered online at http://www.logotags.com/custom-dog-tags/embossedtextdogtags.html or by contacting LogoTags at 914-664-7500; by email at sales(at)logotags(dot)com.
LogoTags' parent company, Ball Chain Manufacturing (BCM Corp), has sold its iconic ball chains to the US military for over 50 years. BCM is the largest manufacturer of ball chains in the world and the only company that manufactures ball chains in the United States. BCM was founded in 1938 and is headquartered in Mount Vernon, New York, where it operates its main production facilities, administrative offices, and customer service operations.
For more information about custom dog tags and other promotional products, visit LogoTags at http://www.LogoTags.com.