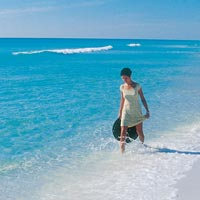 "We've always had a lot of fun on Halloween night with our guests, and over the last few years the fall season has grown to where we do have lots of little 'ghosts and ghouls' staying with us, so we wanted to do something really fun for them this year."
Panama City Beach, Fl (PRWEB) October 14, 2015
Fall is filled with festivals and fun events all around Panama City Beach Florida, but as Halloween draws near you'll want to stay close to the Holiday Inn Resort as they have some tricks to treat their guests to this year!
Each fall the Holiday Inn Resort guests enjoy festive decorations throughout the resort and great football specials in the SunSet Lounge - along with the incredible endless summer weather, less crowded beaches, heated pool, and great low rates! This year, the Activities Team at the Holiday Inn Resort Panama City Beach is hosting a special Halloween Scavenger Hunt for kids of all ages with tricks and treats spread around the hotel!
"We've always had a lot of fun on Halloween night with our guests, and over the last few years the fall season has grown to where we do have lots of little 'ghosts and ghouls' staying with us, so we wanted to do something really fun for them this year." Says Heather Register, Activities Manager at the Holiday Inn Resort.
For those who dare to take this spooky challenge, Trick-Or-Treat bags will be provided along with the first of the mysterious clues, and that will send them on a cryptic adventure around the resort until they've solved the puzzle and see what the end has in store!
With all the great amenities, activities, and entertainment that the Holiday Inn Resort provides, there's certainly no mystery as to why they're the best family resort on the beach, and with great fall Rates starting as low as $99 starting from October 26th – November 2nd, it's a great time to celebrate fall on Panama City Beach. For more information on the Scavenger Hunt, or any of the resorts money saving packages visit http://www.hipcbeach.com or call 800.633.0266 and one of our friendly reservations team members will be happy to help.