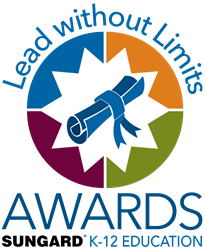 It's an honor to serve these individuals and their school districts as they support students in realizing the greatest possibilities for their lives.
Palm Springs, Calif. (PRWEB) October 13, 2015
Today, SunGard K-12 Education announced its 2015 Lead without Limits Awards winners at the SunGard National Users' Group Conference (SNUG) in Palm Springs, Calif. The 2015 Lead without Limits winners were selected from the elite group of school district personnel from across the nation who were recognized for effective technology use in the Lead without Limits Awards program over the past year.
The Lead without Limits Awards Program recognizes school districts, schools, departments, administrators, and educators that leverage technology to help improve student achievement and/or school or district efficiency. Each month, SunGard K-12 celebrates recipients in these categories:
Information Technology Innovator. Information Technology Innovators enhance the educational process with technology. Nominees' information technology efforts support student achievement and/or help improve school/district efficiency.
Data All-Star. Data All-Stars use data to positively affect student achievement by applying best practices or innovating processes. Whether their initiatives are impacting one student or hundreds of students, nominees are unlocking student potential by applying insights gained from an analysis of data.
Operational Efficiency Pacesetter. Operational Efficiency Pacesetters leverage technology to help improve the efficiency of school/district processes. Nominees set the pace for school/district productivity by creating initiatives that use technology to help make things better, cheaper, quicker, and/or more effective.
Just prior to the SNUG conference, the Lead without Limits Awards committee, which is comprised of SunGard K-12 employees and customers, reviewed all the monthly winners over the past year and selected the following 2015 Lead without Limits Awards recipients, who were invited to attend the conference courtesy of SunGard K-12 Education:
2015 Lead without Limits Information Technology Innovator
Melissa Binder, Student Information System Coordinator
School District of Lancaster, Lancaster, Pa.
As student information system coordinator for the School District of Lancaster, Melissa Binder is determined in her pursuit of educational excellence and continuous improvement and often leads district initiatives that innovate processes to support student achievement. In her nomination, Terry Tippett, the district's director of information technology, said, "Melissa stops at nothing when it comes to helping our district and other districts with technology initiatives. If there is a better, more efficient way to work with student data, she is always the first person working on the proposal. She has created some outstanding Cognos reports and dashboards to help administrators with easy solutions to review data. She is truly an asset to our team."
2015 Lead without Limits Data All-Star
Janice O'Brien, Software Support Specialist
Rockford Public Schools 205, Rockford, Ill.
Janice O'Brien, software support specialist with Rockford Public Schools 205, helps educational stakeholders make the most of systems that support student achievement. In his nomination, Chris Taskey, the district's information services coordinator, said, "Janice constantly looks for ways to provide data to our end users so they can make better data-driven decisions," he said. "Janice leads our support team by pushing eSchoolPLUS to its limits and making sure we get the most value out of what the application has to offer." O'Brien collaborated with the district's curriculum team on an RPS 205 Board-directed initiative to give all parents and guardians access to their student's information. In order to achieve this directive, the district rolled out the eSchoolPLUS standards-based gradebook in its elementary schools, and O'Brien developed district processes and guided users.
2015 Lead without Limits Operational Efficiency Pacesetter
Ric Cargas, Database and Information Systems Manager
Council Rock School District, Newtown, Pa.
As database and information systems manager for Council Rock School District, Ric Cargas oversees the process of evaluating and implementing technological tools. In his nomination, Barry Desko, the district's director of secondary education, said, "Ric has put in place all of the necessary tools to allow our district, schools, teachers, parents, and students to be more effective and efficient in their work. In so doing, we have moved our district forward in its use of technologies to better serve all of our stakeholder groups." Cargas led the district's effort to implement an elementary standards-based student report card and an ancillary report that supports administrators in developing a better understanding of student achievement and identifying opportunities for growth. He also implemented student active directory authentication, which has increased student use of eSchoolPLUS Home Access Center, the family portal for access to grades and assignments.
According to Frank Lavelle, SunGard K-12 Education's CEO and president, the 2015 Lead without Limits Award recipients are helping to make a profound difference for this nation's children. "Through their efforts, the 2015 Lead without Limits Awards winners are having an inspiringly positive impact on their school districts," says Lavelle. "It's an honor to serve these individuals and their school districts as they support students in realizing the greatest possibilities for their lives."
In her acceptance of the award, Binder explained her passion for innovation. "Innovation is important to me because it brings about change and allows us to become more efficient," she said. "We can't remain stationary. One may argue that we just don't have enough time in our work day or that we have too much on our plate already. But, if you want to be more efficient, you have to make it a priority. And, it doesn't necessarily mean that you have to make drastic changes. Sometimes literally it's the smallest changes that make the biggest difference."
For O'Brien, technology is key to innovating district processes and knowledge is essential to its effective use. "Technology is so powerful if you know how to take advantage of what it can do for you. Because we believe this, we are passionate about sharing that knowledge with others," she said during her acceptance. "When we teach them, we are empowering them to be self-sufficient. It's gratifying when you can take complicated, time-consuming project and use technology to make it easier for them."
Cargas expressed his gratitude for the recognition. "This award really speaks to leadership. The only way I was able to win this award was to be nominated. My supervisor took the time to write out everything that he values in what I'm doing," he said. "It means so much to me. And, it really encourages me to continue doing a good job and make a difference in what I do. Ultimately all my efforts really come down to making Council Rock the best place for students to learn."
About SunGard K-12 Education
SunGard K-12 Education offers software solutions designed to help teachers, administrators, and parents support student achievement. The PLUS 360 products are a single integrated suite of software solutions for the management of student information, assessment and curriculum, special education, and financial and human resources. The suite—which provides district staff with anytime, anywhere access to important district information—can be deployed to work together or implemented as stand-alone systems to help meet educational goals and requirements. For more information, visit SunGard K-12 Education at sungardk12.com.
About SunGard
SunGard is one of the world's leading financial software companies, with annual revenue of $2.8 billion. We provide solutions for financial services, the public sector, and education. Our software is delivered via Software as a Service ("SaaS"), in the cloud and on premises, surrounded by an extensive suite of service offerings. Through the depth and breadth of our solution portfolio, global capabilities, and domain expertise, we are uniquely capable of supporting virtually every type of financial organization, including the largest and most complex institutions in the world. SunGard's approximately 13,000 employees proudly serve approximately 14,000 customers in more than 100 countries, bringing fresh ideas and inventive solutions to help our customers adapt and thrive. For more information, please visit http://www.sungard.com.
Trademark Information: SunGard, the SunGard logo, PLUS 360, and eSchoolPLUS are trademarks or registered trademarks of SunGard Data Systems Inc. or its subsidiaries in the United States and other countries.
© SunGard K-12 Education 2015. All rights reserved.