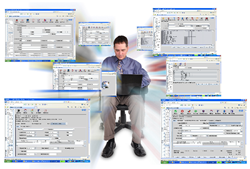 RAM, as an organization, is dedicated to finding innovative ways to leverage our solutions to improve the administration of these programs.
Fort Washington, Pennsylvania (PRWEB) October 14, 2015
RAM Technologies, Inc., the perennial leader in the development of enterprise software solutions for health plans, is proud to sponsor America's Health Insurance Plan's (AHIP) National Conferences on Medicare & Medicaid and the Dual Eligibles Summit. The combined events are being held October 18th - 22nd in Washington, DC.
"We are proud to lend our support to AHIP and the Medicare, Medicaid and Duals conferences," said Christopher P. Minton, Executive Vice President for RAM Technologies. "RAM Technologies and the Medicare, Medicaid and Duals Conference are a strong match. This conference brings together the leading voices in the industry to discuss ways to secure the future of government sponsored healthcare. RAM, as an organization, is dedicated to finding innovative ways to leverage our solutions to improve the administration of these programs."
The RAM solutions, HEALTHsuite® Mercato and eHealthsuite™, are the leading solutions for the administration of Medicare, Medicaid and Dual Eligible programs. They provide extensive capabilities for health plans looking to deliver these programs in the most efficient manner possible.
HEALTHsuite Mercato is an enterprise application with fully integrated functionality to automate all aspects of enrollment, eligibility, benefit administration, provider contracting and reimbursement, care management, utilization and medical management, claims administration, subrogation / overpayment recovery, customer service, premium billing, fulfillment, reporting and more.
eHealthsuite is RAM's flexible and secure web portal product. This highly innovative portal enables healthcare payers to reduce administrative costs while extending services to members and providers on a 24 x 7 basis. The self-service capabilities of eHealthsuite allow a health plan's members and providers to access their information and conduct real-time transaction processing from their offices or homes via a secure Internet connection.
AHIP's National Conferences on Medicare & Medicaid is a comprehensive event designed to address the major factors impacting the industry. At the National Conference on Medicare former CMS administrators will discuss the evolution of the Medicare program. The Dual Eligibles Summit will highlight innovative strategies for engaging dual eligible populations and providers.
About America's Health Insurance Plans (AHIP)
AHIP is the national trade association representing the health insurance industry. AHIP's members provide health and supplemental benefits to more than 200 million Americans through employer-sponsored coverage, the individual insurance market, and public programs such as Medicare and Medicaid. AHIP advocates for public policies that expand access to affordable health care coverage to all Americans through a competitive marketplace that fosters choice, quality and innovation. For more information on America's Health Insurance Plans visit ahip.org
About RAM Technologies
RAM Technologies is the leading provider of enterprise claims management software and claims adjudication software for health plans. For over 34 years RAM Technologies has led the way in the creation of Medicaid software solutions, Medicare software solutions and software for dual eligible processing (the Medicare-Medicaid Financial Alignment Initiative). RAM Technologies has been recognized on Inc. Magazine's List of Fastest Growing Private Companies and the Philadelphia Business Journal's List of Top Software Developers for their advancements in the creation of comprehensive claims management systems for Medicare and Medicaid administration. To learn more about RAM Technologies' healthcare claims processing and managed care software solutions call (877) 654-8810 or visit ramtechinc.com.