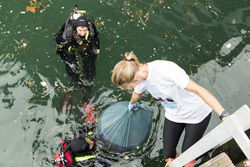 Todd Gloria issued a proclamation declaring the day as official San Diego Underwater Cleanup Day and this year's event is anticipated to be just as successful
San Diego, CA (PRWEB) October 13, 2015
The Control Group will be a corporate sponsor for Power Scuba, in partnership with The Port of San Diego, for the Annual Power Scuba Underwater San Diego Bay Cleanup.
The event will begin at the Fish Market at 750 N. Harbor Dr. The stretch of harbor to be cleaned is home to, among other sites, the iconic USS Midway and the historic vessels comprising the San Diego Maritime Museum's collection: Star of India, Californian, Medea, H.M.S Surprise, USS Dolphin, and the Soviet B-39 attack submarine.
Power Scuba has partnered with The Port of San Diego and obtained financial sponsorship by San Diego software company The Control Group, whose Little Italy office windows overlook the stretch of bay that is being cleaned. Volunteers from The Control Group will act as surface support alongside other Power Scuba volunteers to perform topside cleanup and diver assistance as Power Scuba divers remove garbage underwater. This will be The Control Group's second year of involvement in sponsoring and volunteering for this event.
Last year's event was an absolute success with over 1050 pounds of trash having been collected and with a turnout of about 100 ecologically-minded volunteers desiring to give back to their community while enjoying the rare opportunity to dive beneath some of the city's most prominent waterfront sites. Todd Gloria issued a proclamation declaring the day as official San Diego Underwater Cleanup Day and this year's event is anticipated to be just as successful.
The San Diego Bay is an important part of San Diego's infrastructure. It is not only a large commercial port, it also plays a large role in San Diego's tourism industry. The bay is considered to be one of the "best natural harbors on the west coast of North America". The bay is 12 miles long and one to three miles wide making it a great undertaking to maintain and keep clean. In past underwater cleanups, volunteers have found a wide variety of trash items, including shopping carts, bottles, cans, golf balls, plastic bags, and even fireworks, luggage, and skateboards.
This event is open to the public and participation is greatly appreciated. If you would like to participate either as a diver or a topside volunteer, or would like additional information, please go to Power Scuba's MeetUp event page at http://www.meetup.com/Scuba-Diving-San-Diego/events/224618640/.
About The Control Group
Created in 2011, The Control Group is one of the fastest-growing technology companies headquartered in San Diego. Their expertise is in web development and internet marketing. The company is the developer of InstantCheckmate.com, one of the top people search engines in the world and NextGen Leads, an extremely high quality insurance leads platform focused on streamlining lead acquisition. Because the company is already profitable, it has been able to develop a company culture that is shaking up the Technology Sector. Core to the company culture is its reach into the community to make a positive impact by volunteering, supporting, and getting involved in numerous important causes.
About Power Scuba
Power Scuba is a 501(c)(3) non-profit corporation dedicated to ocean stewardship and the preservation of our underwater environment. Comprised primarily of scuba divers, Power Scuba educates the community, through outreach and programs, about the local underwater ecosystem, which desperately needs our help. The corporation provides a means by which divers can be more active in scuba activities while they also become attuned to the plight the ocean currently faces. Learn more about Power Scuba's mission and events by visiting http://www.powerscuba.org.