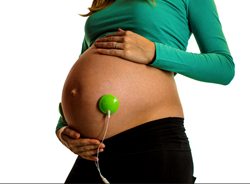 "WavHello will allow us to further develop inspiring ways for little ones to connect with their world."
Las Vegas, Nevada (PRWEB) October 20, 2015
Belly Buds LLC, manufacturer of the popular BellyBuds®| Baby-Bump Sound System, a specialized speaker system that plays sound directly to the womb, announced yesterday its rebrand as WavHello®. As part of the company's growth strategy, all new and existing offerings will be branded as WavHello products with the new company name, logo and packaging.
By leveraging technology and innovation, WavHello's goal is to empower families to connect, share and thrive. The company also places an emphasis on sustainability and charitable causes, partnering with Children's Hospital Los Angeles, Little Ripples and 1% for the Planet.
"It's been incredibly rewarding to watch BellyBuds grow over the past six years," said co-founder Curtis Williams. "WavHello is the next natural step in the evolution of the company, and every day brings more opportunities for us to encourage the connection of loved ones via the use of our innovative technology."
"Since the beginning, we've been about forging a connection between babies and families, starting from even before day one," said co-founder Matt von Waaden. "WavHello will allow us to further develop inspiring ways for little ones to connect with their world."
BellyBuds was launched in 2009 and has grown 50% year over year in the last three years. As part of the relaunch, WavHello plans to roll out a new VoiceShare® mobile app, an updated version of BellyBuds and a brand-new product, its first in the infant category, the SoundBub®. The SoundBub is a portable Bluetooth speaker and infant soother that is compatible with the company's VoiceShare app.
WavHello revealed its new brand identity at the ABC Kids Expo in Las Vegas yesterday, hosting a media event entitled "It All Started with a Hello" featuring a conversation and question and answer session with celebrity guest and BellyBuds fan, Alfonso Ribeiro.
About WavHello
WavHello, based in Los Angeles, develops innovative, safe and socially conscientious products and services for parents and children at all stages, from conception through birth and beyond. Rooted in the belief that small moments shared between family and friends make a big difference, WavHello seeks to empower families to connect, share and thrive through continued innovation.
For more information, please visit http://www.wavhello.com.