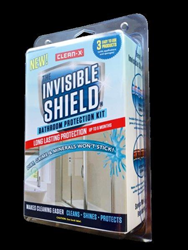 "The amazing new Shield technology instantly protects surfaces against soil, grime and the dreaded mineral deposits in one easy step. It makes cleaning your shower and bath as easy as rinsing non-stick cookware," -Steven Ohlhausen, Unelko Corporation, AZ
Scottsdale,AZ (PRWEB) October 14, 2015
Unelko Corporation is pleased to announce that their Clean-X® -Invisible Shield Bathroom Protection System is now available at Lowe's.
Unlike other bathroom cleaners that only clean, Clean-X Invisible Shield products simultaneously clean and protect surfaces with a lasting Invisible Shield or "barrier coating" that protects them against water, soil and stains for months.
As Steven Ohlhausen, President of Unelko Corporation, noted, Invisible Shield keeps windows, shower doors, bathtubs, wall tile and counters cleaner longer and improves the overall appearance of household surfaces.
Who doesn't want to clean easier? Unelko's tried and proven Invisible Shield® Glass & Surface Coating & New Repel™ products do just that! They are gaining a well-deserved reputation as the finest Advanced Surface Care products on the market.
Unelko also produces nano scale cleaners, treatments and protective coatings for glass and other hard surfaces within the Commercial Cleaning, Automotive, Marine, Aircraft, Solar, Optical & Tech industries . Their New "Easy Clean" Technologies improve the long term performance of surfaces by making them water, soil and stain repellent for less soiling and staining, easier cleaning and improved appearance.
For years, Ohlhausen noted, Unelko has worked with many of the largest glass and bathroom fixture manufacturers within the commercial market. They offer affordable products that clean, protect and maintain surfaces in a broad range of professional markets.
"In recent years, there has been a huge increase in professionals and consumers looking for ways to make cleaning easier with fewer chemicals, less effort, and less time," Ohlhausen said. "A number of national surveys have indicated that consumers prefer products that clean and protect surfaces since water spotting and mineral laden water has become a national problem."
Due to the diversity of movement, ask Lowe's Customer Service for Clean-X Invisible Shield purchase. (Reference item # 670257) To learn more, visit http://www.unelko.com/, http://www.Cleanxproducts.com and http://www.Glasscareexperts.com.