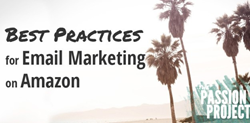 Montgomery Village, MD (PRWEB) November 04, 2015
As an Amazon merchant, advisor and consultant for hundreds of other Amazon merchants and founder of WaveReview, a SaaS platform tool that helps businesses build real, positive customer reviews (http://www.wavereview.com), it is clear that Amazon sellers want an answer to a very important question: "What are some email marketing best practices for Amazon?"
So, how is the perfect Amazon auto responder series written? Well, nothing is truly perfect, but these steps sure gets good results. Everything about writing emails should be done for the following simple reasons.
#1 Get Positive Reviews
#2 Create New Customers
#3 Customer Retention
Let's start with the sequence of emails which should be sent after the purchase has been made.
Email 1 – Informative
The customer has just made a purchase. However, the buyer doesn't always know much about the product they purchased, so it's up to you to give them more information. This is called the Informative email. It's important to proactively educate buyers, providing as many details as possible, and provide some guidance on how to use the product. Introduce yourself and let them know when they can expect the product to arrive, and what they should do with the product when it arrives. End this Informative email by stating that more emails will be coming later once the product has arrived. This is known as "opening a loop", which builds anticipation about more quality information soon to follow. This email is usually sent two days after the purchase has been made.
Email 2 – How did we do?
If you're using Amazon FBA to fulfill orders, it is safe to estimate 5 days for your product to arrive. If you're using FBM, it will take longer. Regardless, give customers two additional days to make sure the product arrived safely and has met or exceeded expectations. Ask the question, "How did we do?". The idea is to use this as a filter to catch any potential customer service problems which may have occurred during the shipment. Or, maybe they just didn't like the product. This provides the opportunity to identify those customers that you don't want posting a review, which is one of the primary reasons for having an Amazon auto responder email series.
Email 3 – 1st Review Request
Wait an additional 2 or 3 days after the "How Did We Do?" email and then go for a positive review request. This email should be short and have a single easy to follow call-to-action: get a review for the product. There's no question that reviews drive sales, and raise your sales rankings, so it's critical that this email be well crafted, simple, and to the point. Some emails also use humor and personality quite effectively. If you have an ebook, this is a great place to include a downloadable link, but make sure the link is on Amazon's servers. Amazon is very strict about not sending their clients away from the Amazon sales ecosystem. Be sure to use the words – "Honest Feedback", and not something like "Leave us a 5 Star Review".
Email 4 – 2nd Review Request
This email is sent 2 days after the 1st request, and it should only go out to people that didn't read the 1st review request. (WaveReview is a software platform that can automatically do this for you.) We find that by resending this email to people who didn't read it the first time, you can increase your review conversion rates by as much as 30%.
Email 5 – Promo Special
After the review requests have come and gone, you don't want to lose the momentum gained with this new customer. Go for another sale, but remember, don't lead them away from Amazon. Lead them to another one of your Amazon products, and create a special coupon to entice them. You can also use this opportunity to increase the sales on one of your products that may be lagging in sales. Remember that a big part of the Amazon algorithm is that sales beget more sales. Send this Promo Special email 7-10 days after your 2nd review request email.
Email 6 – Do You Need Some More?
Send this email near the expected end of life for this product. As an example, if you sell a vitamin product and know that it should last your customer 3 months, send this email about 2.5 months after the purchase. You can easily configure this in WaveReview's platform. It's likely that they may be getting ready to repurchase, so it's time to send a timely email to make sure that they purchase from you again. You can always offer a small discount to ensure the sale, and again, always use personality where appropriate.
About WaveReview
WaveReview was founded by Geordie Wardman, author of The Passion Project Podcast, to assist businesses in building real, positive product and business reviews. WaveReview also provides a tool to enhance customer interaction. The Company has integrated with Amazon and Bigcommerce, as well as business management software companies, such as MINDBODY.