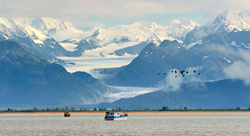 …sustain the health of wild salmon, the backbone of the region's cultures, communities and economies.
Cordova, AK (PRWEB) October 13, 2015
Ever heard of a highliner? What does it mean to get corked? Join in for an evening of Copper River Salmon, October 29, 6:30 at the Urban Farmer restaurant in Portland to find out. The Copper River Watershed Project is teaming up with the Urban Farmer and the Copper River/Prince William Sound Marketing Association to bring you a unique evening of wild, delicious Copper River Salmon as well as the opportunity to learn more of the story behind the salmon on your plate, how it got there, and what it takes to manage a sustainable salmon fishery.
The Copper River on Alaska's south central coastline runs through one of the last salmon strongholds in the Pacific rim and supports king, sockeye, coho, pink and keta salmon. These renewable resources support a multi-million dollar sustainable commercial salmon fishery based out of Cordova, AK as well as subsistence and recreational fishing opportunities in the small, isolated communities throughout the region.
The majestic landscape is also home to brown and black bears, bald eagles, and other fish and wildlife that depend on the return of salmon for their survival. But a healthy future for this great place is not guaranteed. No single entity is responsible for keeping the watershed intact, and the Copper River Watershed Project works hard to bring agency and community partners together to plan on a watershed scale.
Both sockeye and coho salmon will be featured on the menu at the Urban Farmer on October 29, prepared by executive chef Matt Christianson. The sockeye salmon will be cured with flowers, beet, cumin, dill, fennel and eau de vie. A center cut of the coho will be served with maple bacon, lemon char, butter croutons, salsify and crisp potatoes. The meal will conclude with a sweet potato gallette with cranberry ice cream. Wine pairings will be available for each course.
Commercial fishermen from the Copper River gillnet fleet will be in attendance as well as staff from the Copper River Watershed Project to celebrate the wild watershed and sustainable fishery. Limited seating is available, so contact Urban Farmer at (503)222-4900 to reserve your space today. A portion of proceeds from the event will support the Copper River Watershed Project's work to sustain the health of wild salmon, the backbone of the region's cultures, communities and economies.