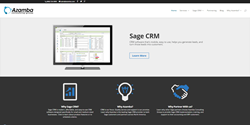 Juice Marketing has a great reputation and I know they've done excellent work for other Sage resellers. Juice Marketing is a company we could trust with such an important project.
Aliso Viejo, CA (PRWEB) October 13, 2015
Juice Marketing, a marketing agency that works with Sage and Microsoft partners, has announced the launch of a new website for Azamba Consulting Group (Azamba). Specializing in Sage CRM implementation, training, and support, Azamba engaged Juice Marketing to modernize their aging website to improve search visility, website traffic, visitor engagement, and lead generation.
Peter Wolf, Founder at Azamba, felt that a website redesign was well overdue. "We wanted a modern-looking and mobile-responsive website built on a content management system so we can easily add new pages and update the site. Because our old site lacked flexibility and control, it had been static for about 5 years which is an eternity in web years."
An important factor in choosing Juice Marketing to lead the web redesign project was the industry-specific experience that the Juice team brings to the table. Peter says, "I've known Mark (Juice Marketing Founder) for a long time. He has a great reputation and I know he has done excellent work for other Sage resellers. Juice Marketing is a company we could trust with such an important project."
Peter adds, "We're very happy with the final product and, now that it's a Wordpress site, we can update it ourselves to keep our message fresh and to communicate new benefits and services related to Sage CRM to our customers and prospects."
Speclizing in marketing programs for Sage and Microsoft partners, the Juice Marketing team designs websites for the ERP, CRM, accounting software, and technology industries.
Learn more the Juice Marketing web design program at http://www.juice-marketing.com/website-design
Visit http://www.azamba.com to take a look at the new Azamba Consulting Group website.
About Juice Marketing, LLC
Juice Marketing provides simple and cost-effective channel marketing programs to Sage, Microsoft, and SAP partners and business software providers. Their turnkey marketing programs - like marketing newsletters, customer success stories, lead nurturing campaigns, press releases, keyword-optimized blog articles, email marketing, social media coaching, and SEO consulting - helps small business technology providers squeeze the most out of their marketing dollar.
About Azamba Consulting Group
Founded in 2007, the Azamba mission is to help organizations become more profitable through the effective and efficient usage of Sage CRM. Azamba is the leading Sage CRM reseller in North America and in order to better serve their customers has more certified Sage CRM consultants on staff than any other Sage reseller. Azamba has successfully completed over 300 successful customer implementations ranging from small, "Mom 'n' Pop" shops to Fortune 500 companies and offers a wide variety of Sage CRM related services, including implementation, training and support, as well as the OnTrack Adoption Service for Sage CRM. With a 99.8% retention rate, Azamba delivers on the promise of long-lasting and reliable relationships with clients and partners.