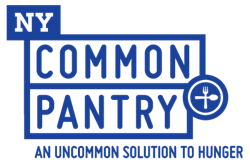 We're honored and humbled to be chosen as a finalist for this award. We've have taken great strides to continually improve upon our service to New Yorkers in need and this enhances and adds to our determination to continue our efforts
New York, NY (PRWEB) October 13, 2015
New York Common Pantry (NYCP) has been named a finalist for the 2015 New York Community Trust Nonprofit Excellence Awards. NYCP is in the running to win a cash award, scholarships for the Columbia Business School Executive Education Programs in Social Enterprise, and the renown that comes along with being recognized by the Excellence Awards program, which was created and managed by The Nonprofit Coordinating Committee of New York.
The selection committee chose NYCP along with five other semifinalists, out of a pool of 56 applicants, following an intensive application and vetting process that identifies excellent and replicable management practices among nonprofits in the five boroughs, Long Island, and Westchester. After the final application round, a selection committee of nonprofit experts will choose three winning organizations to announce at the Awards presentation in November 2015.
Stephen Grimaldi, Executive Director of New York Common Pantry, said, "We're honored and humbled to be chosen as a finalist for this award. We've have taken great strides to continually improve upon our service to New Yorkers in need and this enhances and adds to our determination to continue our efforts."
The Nonprofit Excellence Awards recognize outstanding management practices in eight key performance areas identified by thousands of nonprofit leaders across the country. The eight areas of excellence are: management focus on results; strong governance; excellent financial management; diverse and culturally competent organizational practices; enlightened human resources; model IT practices; effective communications; and, exemplary fundraising and resource development.
New York Common Pantry is dedicated to reducing hunger throughout New York City while promoting dignity and self-sufficiency. Programs including Choice Pantry, Help 365, Project Dignity, Live Healthy! and Hot Meals provide food and resources to New Yorkers in need, last year including residents of 165 zip codes.