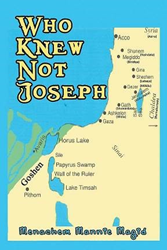 "This historical novel is not only a fascinating read, but paints an unforgettable picture of ancient history." - Robert Fletcher, CEO of Strategic Book Publishing and Rights Agency
(PRWEB) October 15, 2015
After piecing together the conclusions of archeologists and biblical scholars, and by applying his own understanding of human behavior, author Menachem Mannie Magid built an accurate picture of the personalities and events that transpired as the children of Israel became slaves. He says of his novel, "The story is engraved in stones of ancient Egypt. And yet this story has never been told … until now."
From a village in the Land of Goshen, a brilliant but physically challenged boy named Yoram makes his way into the heart of ancient Egypt. He witnesses the changing culture of the Children of Israel and the different mindsets of the pharaohs in power. Yoram experiences the passions and struggles that prevail as the weak new nation falls into subjugation.
This fascinating novel covers the history of the Hebrew nation from its peak of contentment to its descent into slavery. Through Yoram's eyes, "Who Knew Not Joseph" presents an honest picture of the human side of that first holocaust.
Watch the video at: https://www.youtube.com/watch?v=hgOkzvirZ6Q&feature=youtu.be
About the Author: Menachem Mannie Magid was born in in 1944 in Johannesburg, South Africa. He immigrated to Houston in 1979 and is a physician with the University of Texas.
"This historical novel is not only a fascinating read, but paints an unforgettable picture of ancient history. We are pleased to announce its release," said Robert Fletcher, CEO of Strategic Book Publishing and Rights Agency.
WHO KNEW NOT JOSEPH (ISBN: 978-1-68181-148-2) is now available for $26.95 and can be ordered through the publisher's website:
http://sbprabooks.com/MenachemMannieMagid or at Amazon.com or Barnesandnoble.com.
WHOLESALERS: This book is distributed by Ingram Books and other wholesale distributors. Contact your representative with the ISBN for purchase. Wholesale purchase for retailers, universities, libraries, and other organizations is also available through the publisher; please email bookorder@sbpra.net.