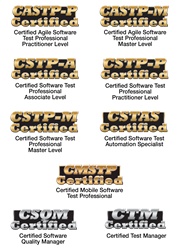 The main goal of Education-Based Certifications is to provide candidates with practical methods and techniques to help them succeed in their job
Minneapolis, Minnesota (PRWEB) October 15, 2015
"Mobile systems have now become an essential part of our life and we must make sure those who test them have the skills and knowledge to perform all the necessary tests," said Dr. Hanna, IIST Chairman and CEO. IIST has positioned itself as the world leader in Education-Based Certifications in Software Testing and Quality Assurance. Since its inception in 1999, IIST has been offering its Software Testing Training and Education-Based Certifications to thousands of Test and QA professionals around the globe. "We make a clear distinction between Education-Based Certifications and Exam-Based Certifications," said Dr. Hanna. "Passing a certification exam by itself does not make a person a better professional nor does it help that person perform better at their job," adds Dr. Hanna. IIST decided to adopt the Education-Based approach to certifications since it started the first certification in 1999. According to Dr. Hanna, IIST certifications require a candidate to complete a course of study that covers a comprehensive Body of Knowledge for that specific certification. Each certification has a Body of Knowledge that was developed by the IIST Advisory Board. "The main goal of Education-Based Certifications is to provide candidates with practical methods and techniques to help them succeed in their job," said Dr. Hanna. "We do not just certify people. We help prepare QA and Test professionals to succeed in their job every day," adds Dr. Hanna.
The new Mobile Testing Certification requires a candidate to complete four days of training covering the four areas of the Mobile Testing Body of Knowledge. An candidate must also pass an exam for each area with a minimum score of 80%. Courses covering the different areas of the Mobile Testing Body of Knowledge are offered through the Software Testing Training Weeks by IIST that are offered around the United States. The schedule and locations for these Software Testing Training Weeks is available at http://testinginstitute.com/stpw/Public-Software-Testing-Training.php.
The new Mobile Testing Certification also has a hands-on Mobile Testing Project requirement where a candidate must work with a Mobile Testing coach assigned by IIST to conduct all project activities for a real Mobile Testing project. "This new requirement was designed to ensure that the certification candidate is able to apply methods and techniques learned from the training to a real project," said Dr. Hanna. Like all other Education-Based Certifications from IIST, the CMSTP requires a number of days of instructor-led courses.
A prerequisite of the CMSTP is that the candidate must complete a formal course of study on essential testing practices including Test Design and Planning. One way to achieve this prerequisite is to complete the Certified Software Test Professional-Associate Level Certification or equivalent certification as determined by the IIST Advisory Board. The purpose is to make sure the candidate already has a good understanding of the test process, the test design techniques and test planning. More details on the new Mobile Testing Certification as well as other Education-Based Certifications are posted at http://testinginstitute.com/software-testing-certifications.php.
The International Institute for Software Testing (IIST) is an educational and professional development organization in the field of software testing, software quality assurance and software testing certifications. IIST is the largest provider of software testing training in the world. IIST was founded 1999 to advance the software testing and quality assurance professions by promoting and recognizing professionalism through education-based software testing certifications, and software testing conferences. IIST is led by it Chairman and CEO, Dr. Magdy Hanna under the guidance of the IIST Advisory Board.