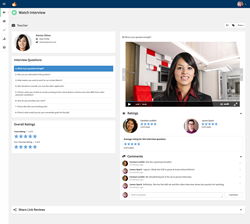 "We work with many clients in the education industry who have experienced great success with screening and hiring teachers and administrators with our platform."- Josh Tolan, CEO of Spark Hire
Chicago, Illinois (PRWEB) October 13, 2015
Spark Hire (http://www.sparkhire.com), the world's fastest growing video interviewing company, will be exhibiting at the American Association of School Personnel Administrators conference in Baltimore, MD on October 13 - 16, 2015.
"We're always really excited to showcase our solutions and network with professionals involved with K-12 talent acquisition," says Josh Tolan, CEO of Spark Hire. "We work with many clients in the education industry who have experienced great success with screening and hiring teachers and administrators with our platform."
Spark Hire offers two types of video interviewing solutions, of which have been used in different ways within the hiring process at school districts. Spark Hire will be demonstrating and highlighting key features that help school districts make better hires.
These innovative features include, but are not limited to:
One-Way Video Interview: Streamline your interviewing by enabling candidates to answer your interview questions on their own time. It's convenient for the applicants and is incredibly insightful for the hiring team. Most school districts use one-way interviews as a replacement to the early-round phone screen.
Live Video Interview: A face-to-face experience, the live interview enables the hiring team to connect with candidates on a more personal level to ensure applicants are a perfect fit for the educational institution. Expand the talent pool with cloud-based solutions that can be referred back to at any time.
Interview Collaboration Tools: Administrators will gain in-depth insight on candidates and will be able to collaborate with their team members regarding potential hires with Spark Hire's easy-to-use sharing and rating features.
Meet the Spark Hire team at Booth 210 to get a closer look at their solutions to help streamline your educational recruiting.
About Spark Hire:
Spark Hire is the fastest growing video interviewing platform in the world. Offering a completely branded one-way and recorded live video interview platform, Spark Hire helps school districts eliminate phone screens, gain more insight into candidates, and make amazing hires. No contracts, no setup fees. Unlimited video interviews. For more information, visit sparkhire.com.
About AASPA:
The American Association of School Personnel Administrators has provided leadership in providing human resources practices to the education industry since 1938. Their mission is to keep human resources professionals up to date with innovative practices that keep their recruitment strategy and professional development ahead of the game to ensure top teachers succeed in the classroom. For more information on AASPA, visit aaspa.org.