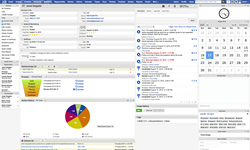 X2CRM 5.3 workflow splitter allow for concurrent processes across sales, marketing and service operations - John Roberts, Founder/CEO of X2CRM.
Santa Cruz, California (PRWEB) October 14, 2015
X2CRM, an open source CRM software and services company, has reached another major milestone in its history with the company's latest version 5.3 of its CRM software, which includes a new workflow splitter, Google+ connector and new Amazon AWS powered virtual private servers.
This release, like all X2CRM versions, is available as an open source CRM application as well as in two commercial versions available in both cloud and download editions.
Release Highlights:
– X2Workflow Process Splitter
– Google+ Connector
– Amazon AWS Virtual Private Severs
– Lead Management Conversion Reporting
– Default Processes for Modules
– Mass Actions for Email Widget
Feature Highlights:
X2Workflow Spitter - Allows for concurrent execution of workflow branches simplifying the creation of complex workflow logic. For example, a new customer may be assigned to two different users one sales, one support within a company each with different workflow actions. By combining the power of two individual workflows into one allows for easy administration and deployment of customer processes.
Google+ Widget - Allows display of Google+ Profile data inside of contact record screens. Contacts can also be searched within Google+ widget and added to contact activity feeds.
Amazon AWS - X2CRM's cloud edition is now powered by Amazon AWS virtual private server platform. Customer can now have a choice of multi-tenant and dedicated cloud deployment options.
About X2CRM
X2CRM | X2Engine, Inc. of Santa Cruz, California, is a leading provider of commercial and open source Customer Relationship Management (CRM) software and cloud services. X2CRM was founded in 2011 by John Roberts, a SugarCRM co-founder and CRM entrepreneur. X2CRM is fully internationalized and has been installed on over 24,000 public and private cloud servers across 160+ countries.
Additional Resources:
Website: http://www.x2crm.com/
Follow @X2CRM on Twitter
Test drive a free trial: http://demo.x2crm.com